Mold and mildew grow on moist and warm surfaces. These mostly present themselves in kitchens and bathrooms. While you ensure to wipe excess water and clean the tiles, these somehow find a way to grow back.
Therefore, in this article, we shall look at ways to prevent mold and mildew buildup. The best shower cleaners for mold and mildew are mentioned at the end. So, let's dive straight in!
---
Different types of Mold and Mildew
While your reaction to a dirty shower may be the same, there are different types of mold and mildew. Most of these are harmless; however, some might threaten property and human health. Here are different types of mold and mildew that you need to be aware of.
Aspergillus – These cause several allergic reactions when humans are exposed to them. It can even cause lung infections found in areas damaged by water.
Allergenic Mold – Allergenic mold affect around 20% of the entire population. The extreme infestation can be removed by only a professional. However, most of the allergenic molds can be taken care of with home disinfecting products.
Pathogenic Mold – A small infestation can be controlled with the help of disinfectants. On the other hand, large colonies require professional removal. They may cause infection, especially in children with a weak immune system.
Toxic Mold – These produce poisonous chemicals that harm animals and humans. A professional must remove the mold and dispose of the affected material.
---
What Causes the Growth of Mold and Mildew?
There are plenty of reasons why you see these stubborn marks all around your bath or shower walls. Written below are some reasons why you find the buildup of mold and mildew on tiles.
Leaking Pipes – Water leaking from the pipes is one common cause of mold growth. The ones that are hidden in a wall cause more trouble since they go undetected and keep feeding mold and mildew.
Poor Ventilation – Ventilation is very important especially in kitchen and bathroom. If your bathroom or Shower is poorly ventilated, it can cause moisture, which gives the perfect environment for mold to thrive. Steam in the air also creates humidity, which requires enough circulation through exhaust or windows.
Wet Clothes – When you leave your wet clothes in the Shower for a long period, mold can easily grow. Even the pile of damp clothes you leave to be washed later induces mold growth. It is a feast in there without proper ventilation.
---
How to Prevent the Build-up of Mold and Mildew?
Mold and mildew tend to increase, especially in the corners of a shower or bathroom. Some even leave stains all over the floor, which is super tough to deal with. While there are different ways to clean these up, there is a foolproof way to prevent the buildup altogether. Here is how you can prevent mold and mildew from growing.
Keep Bottles Away from the Shower – Make sure you don't clutter your toiletry and collect moisture that encourages the growth of mold and mildew. Keep the crowding bottles in a place where there is proper ventilation.
Make Use of Exhaust Fan – It will keep the area dry by keeping moisture at bay. Please switch it on while taking a shower, or keep it on for around an hour after you are done. Keep the window or door open if you don't have an exhaust fan.
Keep the Tiles Clean – Rinse the floor and drain extra water after a shower. It reduces the soap residue on which mildew feeds and thrives. Also, make sure you check pipe leaks from time to time.
Hang Damp Towels – Hang your towels in a place with sunlight. It goes for sponges and loofahs as well. Make sure you wring them well to dry.
---
Features of a Good Shower Cleaner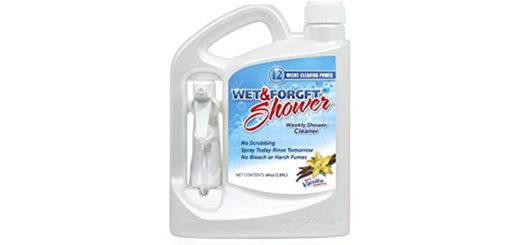 Ingredients – A Good Shower Cleaner will eliminate Mold and Mildew by consisting of ingredients that reduce the need for scrubbing.
Functions – Most shower clears function as a cleaner, a well as protection against mold and mildew.
Packaging – Shower cleaners usually come in spray bottles with refills available, in sets or single packages.
---
Reviews: Best Shower Cleaner for Mold and Mildew
Here is the ultimate list of products found to be useful in removing mold and mildew. Also, we would like to inform you that we may receive a part of the profit for every purchase through the below-mentioned links!
We hope you love the products we recommend!
So that you know, We may collect a share of sales or other compensation from the links on this page.
---
1
---
2
It is formulated to clean mildew, algae, mold, and fungus stains.
The product also includes a ready-to-use personal bottle. Therefore, you can take your cleaner anywhere with you.
It is safe and can be used on marble and tiles.
The low odor helps clean everything without suffocating you.
---
3
You can easily remove stains caused by mildew or molds without heavy scrubbing.
The product needs to be sprayed on the surface and scrubbed lightly.
Rinse off the stains with water.
It can also be used on painted surfaces and rubber.
It is safe to be used on vinyl bolsters and upholstery.
An ideal home cleaner, Star Brite, can also be used in RVs.
---
4
The Granite Gold effectively removes mildew, mold, and dirt.
It has a delightful citrus scent.
The product is versatile and can be used on different surfaces like ceramic, glass, stone, tile, and concrete.
It comes with a grout brush that helps in effective cleaning without any damage to the surface.
The formula is safe and acid-free.
---
5
The formula used in this cleaner spray is bleach-free.
It doesn't leave any marks or smell behind it.
The design of the bottle is very ergonomic and comfortable to hold.
It can effectively clean all kinds of stains and dirt marks.
---
6
This grout cleaner brush is perfect for different surfaces.
It can be used to clean the unreachable corners as well.
Clean your outdoor furniture and concrete pools with this soft-bristle brush.
The brush also comes with an extension for precise control.
---
7
The formula used in it is powerful and resistant.
It can easily remove any soap scum, stains, or algae buildups.
It is very versatile, and it can be used on multiple surfaces.
The quantity you get for the price is wonderful.
---
8
The spray bottle allows for very convenient use.
Its unique formula doesn't degrade the stones or grout even after extensive use.
It can be used on basically any surface or material.
The scene of this spray is very fresh and pleasant.
---
9
The formula used in this is very well balanced.
It dissolved soap scum, water stains, and mineral deposits with ease.
The fragrance of this spray is very neutral and light.
It is completely non-toxic and safe for kids.
---
Index Table: Top-Rated Shower Cleaner for Mold and Mildew
---
---