A shower can harbor many dangerous germs and dirt over time; therefore, a Bathroom Steam Cleaner may be just what you need.
With Shower Steam cleaning, there are no harmful chemicals to worry yourself about, yet you still get a hygienic and germ-killing clean that is just as well as using chemicals.
---
---
The Shower Steam Cleaner and How it Works
You will need to fill your steam cleaner with clean water to the point allocated as maximum full or lower for a small cleaning job.
Switch the steam cleaner on an alow to heat up for however long your specific model may take, usually a few minutes or less.
The water in your steam cleaner is heated past boiling point and then forced out through the nozzle of the steam cleaner, brush, or whatever attachment you may require to use.
The hot vapor will loosen dirt in those hard-to-reach areas of your shower and effectively kill mold, germs, dust mites, staph, and many other allergens.
The high heat moisture will dry off quickly, so you do not need to dry your shower off afterward.
Most steam cleaners have clear instructions on how to be used and maintained, so I would advise you to follow these instructions first, as my steps are only a basic guideline.
---
Benefits of Bathroom and Shower Steam Cleaner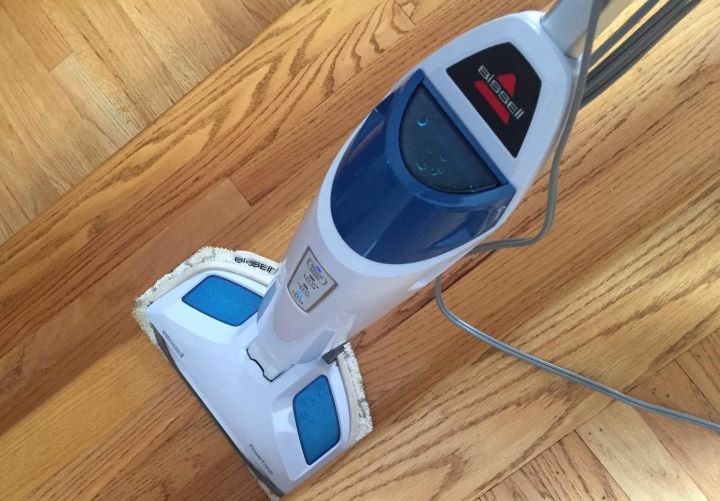 No Chemicals – With a Steam cleaner, you will not have to use any chemicals, so it is a much healthier and safer option for yourself and your shower. As stated on WebMD, experts said to use a steam cleaner with water and no detergent for a child-safe cleaning.
Hypoallergenic – Because no chemicals are involved in steam cleaning, you will not be prone to allergic reactions if you suffer from allergies. Another plus point is that steam cleaning likewise removes allergens such as dust, mold, mildew, and dust mites.
Budget Friendly – Because you do not need to use any soaps or chemicals in your steam cleaner, and there is no need for scrubs and brushes, as well as any other cleaning tools, the steam cleaner similarly saves you quite a bit of money.
Drying Time – The high heat of the steam cleaner dries quickly, so there is no need for you to dry off your shower, saving you much-needed time and effort.
Destroy Germs – Just like Shower Cleaner for Mold and Mildew, the high heat steam destroys all infection and virus-causing bacteria such as Steph, Mold and removes mildew. It likewise prevents odors from developing and keeps your shower hygienic.
Removes Tough Dirt and Grime – A steam cleaner will remove tough dirt and stains with ease, as well as get into those small grooves and hard-to-reach areas of your shower that you usually struggle with cleaning.
Soap Scumm – Soap scum can build up in your shower, and because of its oily and sticky consistency, be very hard to clean off properly. A steam cleaner will be melted away and wash away built-up soap scum fast and efficiently.
Other – A steam cleaner is an affordable and highly efficient cleaning device that can clean your shower and many other areas and things in your home. Most steam cleaners come with various attachments to clean different surfaces such as tiles, glass, carpet, upholstery, and even cement. Some even come with a steaming attachment to iron and steam your clothes.
---
Features of a Good Bathroom and Shower Steam Cleaner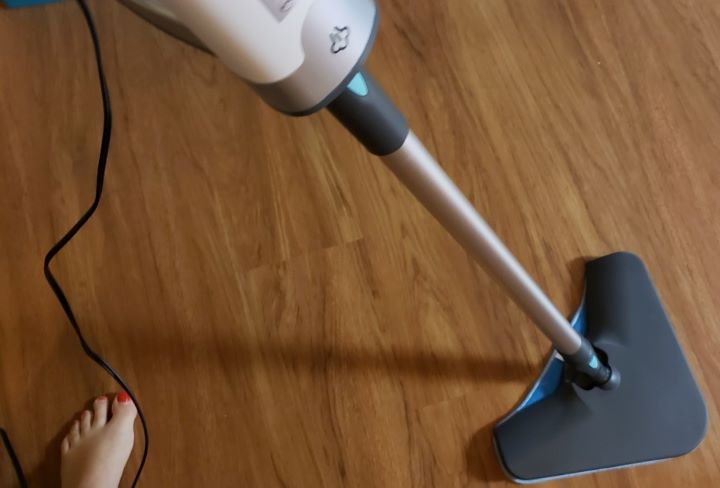 Attachments – The attachments that come with your steam cleaner can include; A flexible extension hose, long spray nozzle, door/window nozzle and plate, bent spray nozzle, round brush nozzle, squeegee, funnel measuring cup and a towel sleeve, and the attachable extension hose for hard to reach areas.
Power – Around 500 to 1000 Watt power rating, with powerful high pressure steam. Typical steam cleaners can utilize between 1000 and 1800 watts. For example, an average bulb consumes approximately 60 watts, whereas a typical computer consumes approximately 365 watts.
Watertank – A sturdy and durable water tank that holds sufficient amounts of water. The water tank holds 350ml and delivers 15 minutes of continuous steam, so you won't have to stop frequently to replace it.
Power Source – Usually a long electrical cord or a charging dock. So, it is easy to be used and kills 99.9% of household bacteria, including salmonella and E. Dust mites and surface mold, as well as E. coli and Staphylococcus.
---
How We Test and Score Bathroom and Shower Steam Cleaners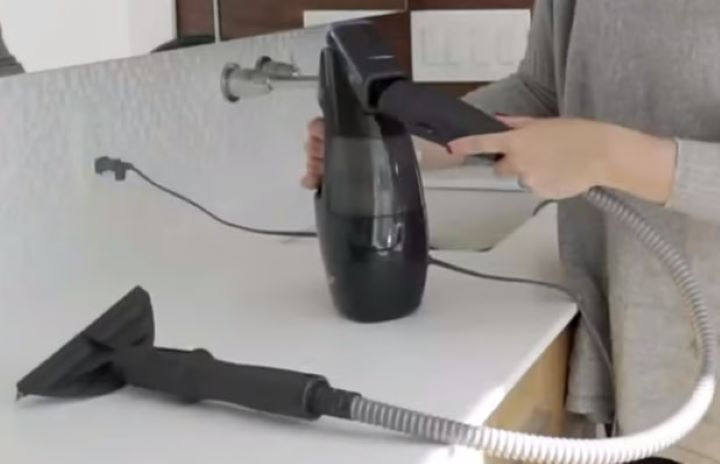 These reviews are based on intense research, analysis, and feedback from our experts and real users from different digital platforms.
We spent 29 hours trying, testing, and scoring these Bathroom and Shower Steam Cleaners, for different key parameters and then shortlisted the best products in the market, saving you time and effort.
We used the following parameters for our tests and analysis.
Chemical Free – We checked if the steam cleaners contained natural ingredients which were safe and environmentally friendly.
Hypoallergenic – We observed how the steam cleaners are likely to trigger an allergic reaction.
High Pressure – We observed how effectively the steam cleaners eliminated dirt, grease, mold bacteria, viruses, and germs without relying on harsh chemicals.
Portable – We checked how easily the steam cleaners could be carried or moved.
Budget-Friendly – We compared different steam cleaners and came up with the most affordable and effective.
---
Frequently Asked Questions (FAQ) on Bathroom and Shower Steam Cleaner
---
Reviews: The Best Bathroom Steam Cleaners
Listed are some of the Best Shower Steam Cleaners that you will find available today.
We hope you love the steam cleaners we recommend!
So that you know, We may collect a share of sales or other compensation from the links on this page.

---
1
---
2
The Comforday is another highly versatile and popular steam cleaner for all surface areas, fabrics, car seat curtains, which will likewise make the perfect steam cleaner for your shower.
Available in a RED or YELLOW variant for your personal preference.
It comes with nine accessories; an extended nozzle, spray cup, bent bray, funnel, measuring cup, door and window spray cup, towel sleeve, brush plate, long spray cup, and brushes.
Easy multi-purpose use.
Completely safe and chemical-free cleaning.
Additionally, it has powerful and hot steam that can last up to 20 minutes.
It comes with a high-pressure valve.
The handheld design is lightweight and easy to use.
| Rating Category | Weight % | Score |
| --- | --- | --- |
| Chemical Free | 30% | 100 |
| Hypoallergenic | 25% | 95 |
| High Pressure | 20% | 90 |
| Portable | 15% | 95 |
| Budget-Friendly | 10% | 90 |
| Total Score | 100% | 95 |
---
3
The PurSteam is a lightweight handheld steam cleaner perfect for small spaces like your shower, kitchen, and bathroom.
Ensures 100% natural, safe multi-purpose deep cleaning in almost any area of your home.
Removes tough dirt, grime, and even built-up mold.
It emits excellent pressure and hot steam for continuous cleansing after just 3-4 minutes of heating time.
Lightweight and handheld design with a 9.8 feet power cord.
It comes with a flexible extension hose, long spray nozzle, door/window nozzle, bent spray nozzle, nylon brush, funnel measuring cup, and an ironing brush cloth.
| Rating Category | Weight % | Score |
| --- | --- | --- |
| Chemical Free | 30% | 100 |
| Hypoallergenic | 25% | 95 |
| High Pressure | 20% | 90 |
| Portable | 15% | 90 |
| Budget-Friendly | 10% | 90 |
| Total Score | 100% | 94.25 |
---
4
The McCulloch is a handheld steam cleaner that is potent and compact.
Potent Lockable, steam cleaning, and pressure system.
Deep cleans and sanitizes your shower fast and effectively.
It comes with 11 versatile accessories as well as a detachable extension hose and a 15-foot power cord.
Its U.S voltage requirements are tested and certified for safety.
---
5
The Pronto from Reliable Cleans all surface areas, fabrics, and garments with tough yet gentle steam action.
The handheld cleaner has a high-pressure nozzle and steam cleaning design.
Very safe and easy to use.
It can be used as a fabric steamer as well.
The steam gun ensures direct and controlled steam cleaning.
There is a 4-bar pressure system with a fast 2-minute heat up time.
Portable and efficient with an 8-meter action radius.
---
6
Are you looking for the best all-purpose home cleaning system that will work on your bathroom as well? Then look no further than the Wagner floor and household steam cleaner for all surfaces.
A portable steamer that cleans and sanitizes your entire home and is highly useful to use in the shower.
It has a spray tech design with an extension hose, jet nozzle, duster attachment, mirror and glass cleaning attachment, Nylon brush head, Glass coral Cloth, and a carpet glider.
Very lightweight and easy to operate.
It has a filterless upgraded mop design.
Cleans floors, carpets, handheld design, windows, doors, and steams garments.
---
7
Get this Vminno pressurized steam cleaner free from any harmful chemicals.
It has a rotating nozzle which is highly efficient in reaching every corner and crevice you want to clean.
The product is multi-purpose so that you can clean upholstery, kitchen, and bathroom with it.
Additionally, you can steam off the creases from the clothes and clear any dust on them.
You can get your bathroom clean in no time with the professional-grade formulation.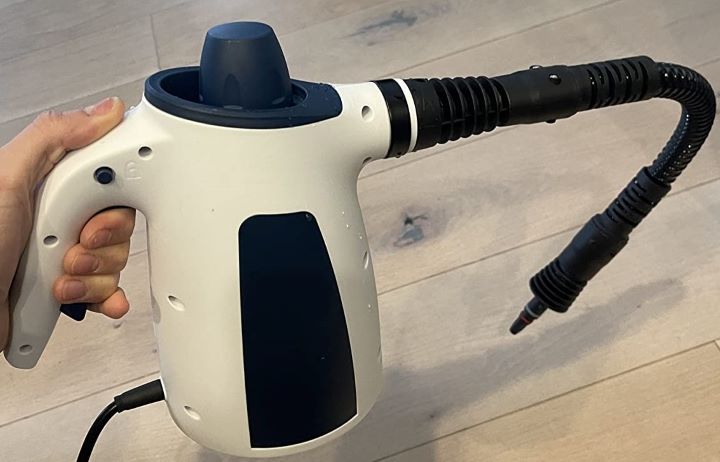 ---
8
The Kiato steam cleaner for shower mold has a large tank to accommodate 12 oz. Water for cleaning.
Moreover, the large size will ensure that you get an uninterrupted supply of steam while cleaning (10 minutes).
Now, you can deep clean and sanitize without using any chemicals to eliminate mold, stains, dirt, and grease.
The chemical-free cleaning is perfect for eliminating any toxins from your home, kitchen, and bathroom.
It comes with 9 accessories to fit your day-to-day cleaning needs with efficiency.
---
9
The MOSCHE handheld cleaner has a compact design to give you more control while cleaning.
It has easy to assemble nine different accessories for effortless cleaning.
The hot steam can remove heavy grease, grout, or stain with high pressure.
Additionally, it is safe to use with the auto shut-off feature if there is no water in the tank.
You can clean hard-to-reach places in a few minutes without breaking a sweat.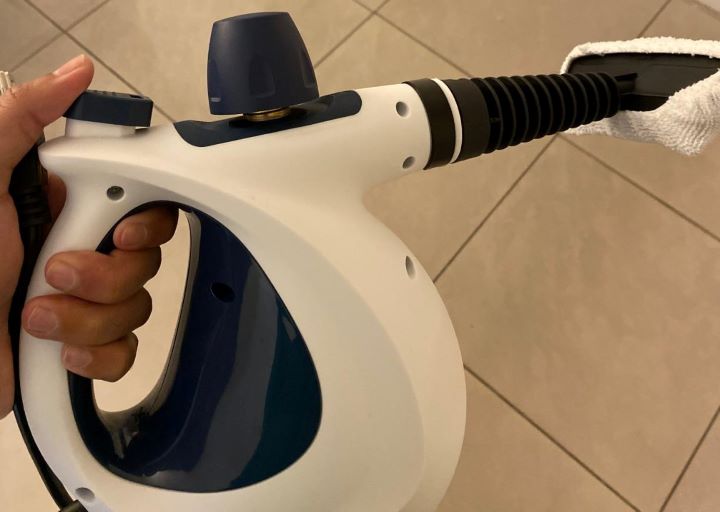 ---
10
Clean your bathroom and shower area with high-powered steam free from any chemical substances.
The product is extremely lightweight and portable to carry around the house.
It is easy to use in different ways, with over 8 extensions to fit the cleaning surface.
All you need is some water to clean the grime and dirt that doesn't leave with any other heavy-duty cleaners.
The steam cleaner comes with a lock to make it safe from any accidents while cleaning.
---
Index Table: Top Rated Shower Steam Cleaners
---
---