Showering is a part of the daily routine for most people.
We need warm water, the best hair and body products, the softest towel, and the best shower slippers we can find to have the best showering experience.
Scroll down below to find out more about why you need special shower slippers and the best ones available online.
---
Why You Need Special Shower Shoes
Anti-Slip – Shower is a place which is generally wet. Therefore, you need shoes that are suitable for wet areas. Look for special shoes that come with a slip-resistant sole to reduce the risk of falling and injuries.
Comfortable – Whether it's indoor use or outdoor, wet or dry, shoes should always be comfortable. Pained and sore feet affect everything, from mood to body posture. Hence, it would be best if you had comfortable shoes and easy to wear.
Water-resistant – Most shoes get cracked, or they come apart when exposed to water. This is because water loosens the glue used to join the shoe pieces. So, look for shoes resistant to water and do not lose their quality.
Hygiene – Wet feet and shoes can cause diseases and fungus and increase the growth of bacteria and germs. Wet and humid areas are the best place for germs to grow and flourish. To save yourself from this, you need special shower shoes that are quick-drying and have a proper water drainage system for them.
---
Types of Shower Shoes
Sandals – The most comfortable and common type of shower shoes available for showering are sandals. They come in different designs and styles, and some of the top footwear brands are coming out with sandals nowadays. You can look fashionable even while showering!
Slide-ons – Slide-ons, even from the name, sound super comfortable. Just slide your feet in, and you're ready to move. Slide-ons come in many varieties and designs, as well as color variations. They may come with drainage holes and slip-resistant soles if made especially for showering and in-water usage.
Flip-flops – Flip-flops are the cutest design of shower or lounge footwear out there. Flip-flops are easy to wear and perfect for hot weather as it leaves most of the foot uncovered. They are suitable for wear in washrooms and around the house.
Crocs – Crocs are a fashion statement in and of itself. They have been in style for a long time and are here to stay. The classic croc design is perfect for use in the shower because of its holes that do not allow water to accumulate, but crocs come in various other styles.
---
Features of a Good Shower Shoe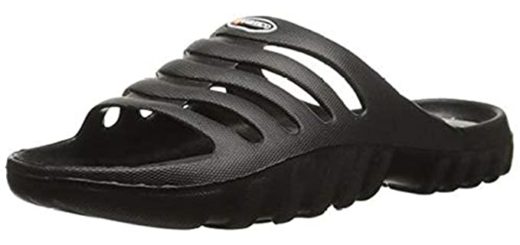 Slip-Resistant – Because of their use in wet areas, shower shoes need to be slip-resistant to make sure you don't fall or slip and cause injuries to yourself.
Comfortable – Shower shoes must be comfortable to wear, as showering involves a lot of bodily movement. Shower shoes must be easy to wear.
Extra Benefits – If you can find shoes that are made of anti-microbial material, even better! The ideal place for the growth of bacteria and fungi in any wet area, like wet shower shoes. Another thing to look for is drainage holes in the shoes.
Quick-drying – Shower shoes need to dry after getting wet quickly, so you don't track the water out of the bathroom.
---
Reviews: Best Shower Flip Flops and Sandals
Reviewed down below are the best shower sandals and flip flops for your safe and comfortable use.
We also like to inform you that for every purchase made through the given links, we may get some credit for the sale.
---
1
The imported shower slides are imported.
It comes with a leather sole.
The shower slide has a soft feeling single-bandage synthetic upper.
The soft cloudfoam footbed offers quick-dry comfort.
---
2
The shower flip flops are made of rubber.
These sandals are lightweight, quick-drying, and suitable for public usage, whether in a hotel shower or a bathing house.
The sandals offer reduced water absorption because of the closed-cell EVA construction.
These sandals reduce the risk of Ringworms, Athletes' feet, and other shower Fungi.
The Vertico flip flops are anti-slip.
---
3
The imported shower flip flops come with a rubber sole for comfortable usage.
They are made of synthetic materials.
The Quiksilver flip flops offer a slip-resistant, textured footbed to make it safe for use in wet areas.
It comes in a three-point rubber strap style.
---
4
The Crocband flip flops can be used by both men and women and are the perfect, fashionable choice for warm weather.
The flip flops are sporty, lightweight, and come with the signature midsole racing stripe.
These are created with Croslite foam and provides support and comfort all day long.
The upper soles offer massage-pod footbeds.
These water-friendly flip flops are quick-dry and buoyant.
---
5
The slippers are made with closed-cell EVA construction.
They come with a soft rubber sole for safe and secure usage.
The shevalue slippers are made of high-elastic EVA and are lightweight.
These slippers balance pressure, reduce feet stress, and relieve pain.
They quickly dry because of the drain holes.
They provide good grip and are slip-resistant.
---
6
The shower slides are rubber-made and come with a soft rubber sole.
It offers the perfect fit for any foot shape.
It is suitable for showers, gyms, pools, and even houses.
Kaiback slides are quick-drying for safe usage.
They come with a slip-resistant sole and offer support and comfort at all times.
---
7
These shower sandals are made using a proprietary blend of EVA and rubber for safe and comfortable usage.
The imported sandals come with a synthetic sole.
The sandals offer the additional benefit of being anti-microbial. Hence, they protect the feet from germs of all kinds.
They are perfect for use in showers, public and private, and even around the house.
The unique design of these sandals includes drainage holes for quick drying and prohibiting the growth of bacteria and fungus.
The slip-resistant soles reduce the risk of falling and injuring yourself.
---
8
The shower slippers are made of PVC and come with a special PE sole.
The high-quality slippers come in different colors: red, blue, green, purple, and grey.
The slippers offer unique anti-slip properties for safe use in dry and wet places.
---
9
Get this 100 % sturdy synthetic foam shower slide from New Balance to keep your feet comfortable in the shower.
It has a rubber sole that forms a nice grip, even on the wet floor.
The EVA foam is known for its softness and cushioning for the feet.
The slip-on design makes the slides easy to wear and take off.
---
10
Get these EVA shower sandals from Birkenstock with their anatomically designed base.
The footbed of the sandal is comfortable for the contours of the feet in the shower.
Moreover, the slippers are lightweight, waterproof, and washable.
These are available in different vibrant and muted colors.
---
Index Table: Top-Rated Shower Sandals and Flip Flops
---
---