The Handheld Showerhead with slide bar is one of the most affordable and best ways to make your shower more adjustable for people of various heights and physical needs.
Now everyone in your home can enjoy a shower to their personal and custom needs and requirements.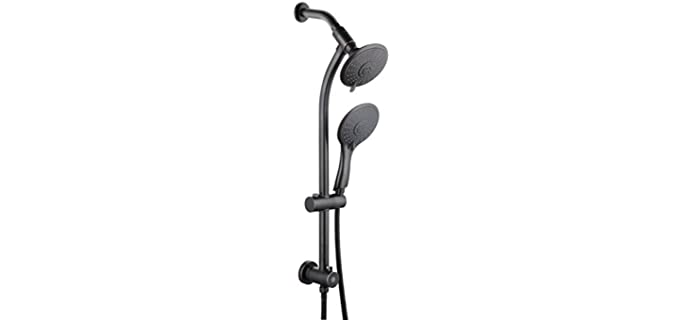 ---
Why Choose a handheld Showerhead with a Slide Bar?
If you need more flexibility when showering, the best available handheld showerhead with a slide bar may be just the item that you need,
With this type of showerhead, you can easily adjust the height and angle of the water stream to suit your personal needs.
Some slide bars can even double up as a handy and sturdy grab bar should your need one, and the design can allow you to take a shower while sitting down.
The option of having a handheld showerhead is ideal for reaching hard-to-reach areas or washing your hair. It is also ideal for sitting and showering when you cannot get the right water coverage from a stationary showerhead.
The slide bar allows you to have one or even two shower heads that allow for water coverage on different areas of your body while standing and even seated.
---
Benefits of a Slide Bar for a Handheld Shower Head
Adjustable Heights – Shower slide bars can be installed in a large variety of configurations. They can be aligned vertically, horizontally, or diagonally. They can also be adjusted to get the perfect body coverage when showering.
Multiple Showerheads – Some models of slide bar handheld showerheads do offer multiple showerheads. They can be placed at different intervals on the slide bar to reach different body areas when showering.
Disabled Individuals – A handheld showerhead is ideal for disabled and elderly persons. The handheld showerhead is much easier to access for someone who needs to sit while taking a shower. The handheld showerhead is also ideal for reaching hard-to-reach areas in the shower, and The slide bar can also help you adjust the showerhead to the perfect height or position if you do not want to hold it or are unable to hold it.
Temporary Solution – For a bathtub that does not have a showerhead, you can use a handle-held showerhead and slide bar as a temporary or permanent solution for a shower. The slide bar and handled showerhead can have multiple uses for turning a bathtub into a shower or easier access in an existing shower.
---
Features of a Good Handheld Showerhead with Slide Bar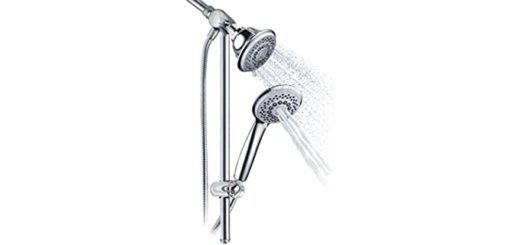 Weight – Some models are more lightweight than others. If you lack hand strength or have a disability, I recommend a more lightweight handheld showerhead and slide bat option.
Size – The handheld showerhead and bar size will depend on your personal needs. A larger showerhead covers larger areas and is ideal for use all over your body, whereas a smaller head is ideal for washing your hair only.
Water Flow Options – Most handheld showerheads will b operated close to the skin. Thus the pressure of the spray is important. There are different flow and spray options from which you can choose.
Function Controls – Look at controls and function features such as the shut-off valve, switch sizes, and how easy the design is to turn and use. Many come with four or more functions and options for spray, and they should be easily activated.
Price – Most ADA handheld showers can range in price from around 4100 up to $5000 for the combination set, The finish and the materials will also affect the price.
---
Reviews: The Best Handheld Showerhead with Slide Bars
These are some of our top favorite Handheld Showerhead and Slide bar combos;
We hope you love the products we recommend!
So that you know, We may collect a share of sales or other compensation from the links on this page.
---
1
The Delta faucet is one of the best handheld shower faucets with a durable slide bar.
The Delta Faucet is a stainless steel slide bar and handheld shower set,
It has soft rubber spray holes so you can easily clean them and wipe away calcium buildup.
The WaterSense certification helps to promote water conservation.
You will see this is the Trim kit only, so you will need to order range MultiChoice universal rough in the set separately for installation.
---
2
The HotelSpa handheld shower and slide bar set is an instant mount design that requires no drilling or fuss.
It is a three-way combo with a slide bar, overhead showerhead, and a handheld showerhead with a hose and slide bar,
It is stainless steel and has a patented three-way water diverter with an anti-swivel lock nut, height, and angle-adjustable bracket.
The installation is very easy and tool-free.
---
3
The Pulse ShowerSpas is an excellent handheld showerhead and slide bar model.
It has a five-function hand shower and an adjustable shower sidebar.
It also comes with a different soap dish and is wall mountable.
The design is a lovely brushed nickel finish.
---
4
The Delta Faucet is a 9 Spray-designed handheld showerhead and slide bar.
It is stainless steel and of exceptional quality.
The shower head and slide bar have nine powerful spray options and are intensely powerful.
It has an included stretchable hose and comes in a variety of finishes.
---
5
The Kes slide Bar and handheld showerhead I some of the best available.
It has a five-function massaging spray head and a brushed finish.
The shower head and slide bar have height adjustability and an adjustable bracket design.
The shower hose is stretchable, which is quite convenient.
---
6
The Duttao Handheld shower head and slide bar are also a great combination o have.
It has a five-function showerhead and comes in oil-rubbed bronze or other color options.
The shower head and slide bar are certified to meet UPC, IPC, and ASME standards.
It also conserves water with WaterSense technology.
---
Index Table: Top Rated Handheld Showerhead with Slide Bars
---
---