If you are in the market for a new showerhead, there's no better way to make your shower experience more enjoyable than with one that is designed specifically for couples.
The best dual shower heads offer various settings to suit both parties needs. Moreover, it is the perfect addition to your shower if you want to shower with a loved one or have a handheld and overhead option at your disposal.
So here are a few best suggestions for the best dual showerheads. Check them out!
---
Benefits of a Dual Shower Head for Couples
The Dual Showerhead has many benefits and can be a handy addition to your shower, particularly if you enjoy showering with your partner.
For Couples – The ideal addition for your shower is if you are a couple and enjoy showering together, no each of you can enjoy your own space and setting to the pressure and spray type.
Water Saving – Showering with a loved one saves you time and water, and you are ensured that not one of you will have to take a cold shower if the hot water runs out.
Spray and Pressure Options – Every shower head has its spray type and pressure options to choose from, so you can each enjoy your individual preferences together.
Hand Held Option – The two-person showerheads almost always come with one of the heads having a Handheld Showerhead with Slide Bar design that an individual can use for hard-to-reach areas or by a second individual.
Easy and Affordable – The dual showerhead is an easy and affordable attachment. There is no need to buy a second shower; you and your partner can enjoy each other's company in a hot shower together.
---
2 Person Shower Head Functions and Spray Options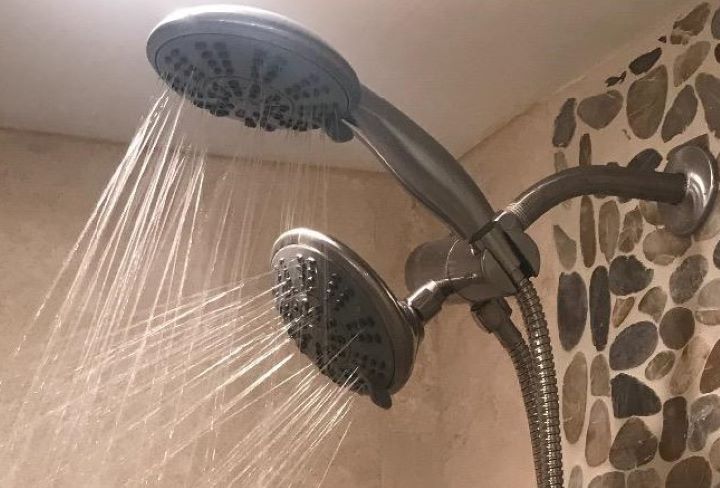 The Dual Shower head comes in two forms, fixed overhead or with a handheld option and a flexible shower pipe, other than that your can choose between spray and pressure options.

Rainfall – A very soothing nozzle type that has water showering down onto you in the form of rain droplets of different pressures.
Mist – Very soft and lightweight pressure water with tiny micro-droplets that are soft and gentle against the skin, just like mist.
Massage – A bit stronger stream like a harder pressure on your skin massaging your muscles. According to Healthline, the feeling of hot water raining down on your tired muscles can be a form of relaxing meditation, especially after a long day of work or a night of sleep.
Bubbling – Rather rare design, air jets in this showerhead create bubbling water pressure.
Jet – The Jet nozzle has a stringer and more targeted pressure spraying.
Watersaving – Water-saving nozzles are your best option if you need to go slow on your water usage.
---
Features of a Good Dual Shower Head for Couples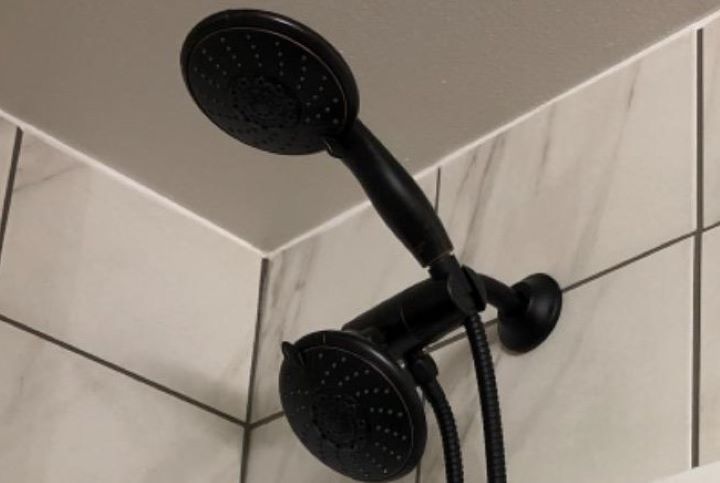 Nozzles – Different pressure and spray options. Silicone Nozzles. Easy to clean anti-bacterial nozzles.
Heads – Dual heads that function separately and together. It also provides added practicality when it comes to cleaning your shower
Finish – Stainless steel and chrome plating or finish. Matt colored or black finish. It has a rustproof, durable, and water-resistant design.
Hose – Long enough and flexible water hose for the handheld function. Handheld and overhead function.
---
How We Test and Score Dual Shower Heads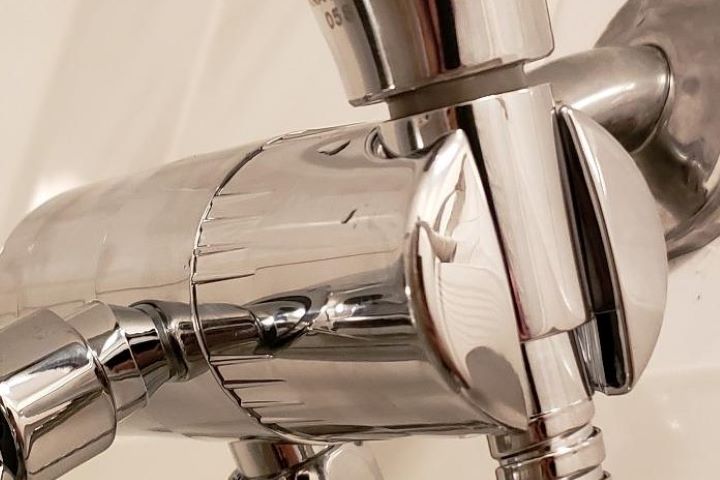 These reviews are based on intense research, analysis, and feedback from our experts and real users from different digital platforms.
We spent 19 hours trying, testing, and scoring these Dual Shower Heads, for different key parameters and then shortlisted the best products in the market, saving you time and effort.
We used the following parameters for our tests and analysis.
Durability – We researched how long users can use this shower head without any reported changes in its quality or design.
Easy Assembly – We noted how easy it was to assemble without exerting much effort.
Water-Saving – We observed how effectively this showerhead could save, reduce water consumption, and lowered water bills every month.
Versatility – We tested the shower head's versatility to be used in different situations.
Price – We checked the shower head's affordability having good quality.
---
Frequently Asked Questions (FAQ) About Dual Shower Head for Couples
---
Reviews: The Best Dual Shower Head for Couples
Below are some of the Best Shower Heads for Couples that you will find available today;
We hope you love the dual shower heads we recommend!
So that you know, We may collect a share of sales or other compensation from the links on this page.

---
1
---
2
The Moen Engage Magnetix is a handheld and rain shower head option with a magnetic docking system for easy use and storage.
It is a versatile design with a sheen chrome finish; it is highly reflective to fit any home decoration style.
A Magnetic base docking system, so you can easily detach and use the handheld showerhead.
There are multiple distinct shower settings for more flexibility.
The kink-free flexible metal hose can extend and flex.
Very durable and comes with a lifetime warranty.
| Rating Category | Weight % | Score |
| --- | --- | --- |
| Durability | 30% | 100 |
| Easy Assembly | 20% | 95 |
| Water-Saving | 20% | 90 |
| Versatility | 15% | 95 |
| Price | 15% | 95 |
| Total Score | 100% | 95.5 |
---
3
It is one of the best dual showers for couples to have a relaxed and enjoyable bath.
This is a high-quality multifunctional 3-way shower and has inbuilt forty-eight water patterns.
The extra-long six-foot hose pipe makes it reach all way down to your feet for a more gentle cleaning experience.
The shower has multiple modes to access through which you can even get an excellent massage while you are bathing.
The shower is also easy to install without tools or a plumber.
| Rating Category | Weight % | Score |
| --- | --- | --- |
| Durability | 30% | 100 |
| Easy Assembly | 20% | 95 |
| Water-Saving | 20% | 90 |
| Versatility | 15% | 95 |
| Price | 15% | 90 |
| Total Score | 100% | 94.75 |
---
4
The AquaDance is a 3-way rainfall combination showerhead with six settings and a handheld function.
Chrome finished a rainfall showerhead.
It has a three-way combination with the handheld option.
A Large 4-inch face with high power click level dial and ergonomic grip handle on the handheld option.
Each showerhead has six functions and settings.
Easy to install and comes with all the necessary tools and attachments you will need.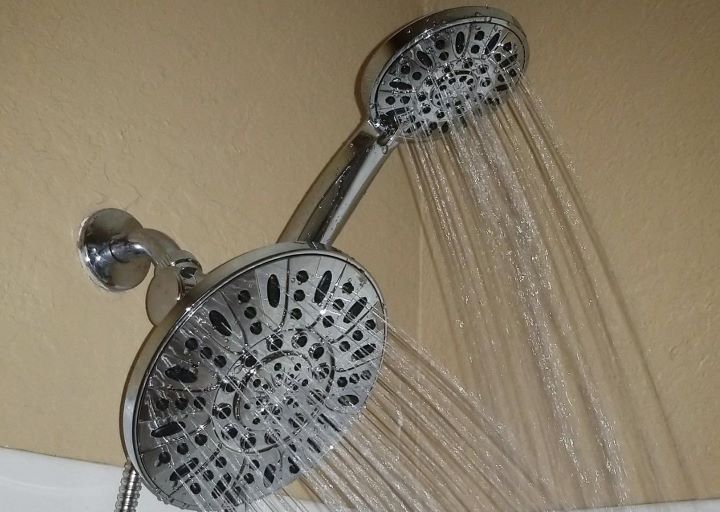 ---
5
The DreamSpa three-way spa experience dual shower head comes with a handheld and seven functions setting.
Ultra-luxury design with a rainfall showerhead and a multi-setting handheld combination.
A 4-inch Chrome finish face and a high-powered chrome finish handheld shower head.
Choose between Hydro-Mist, Rain, Massage, and water-saving spray options.
A five-foot, very flexible stainless steel hose with conical brass hose nuts for easy tightening is included.
Easy tool-free installation.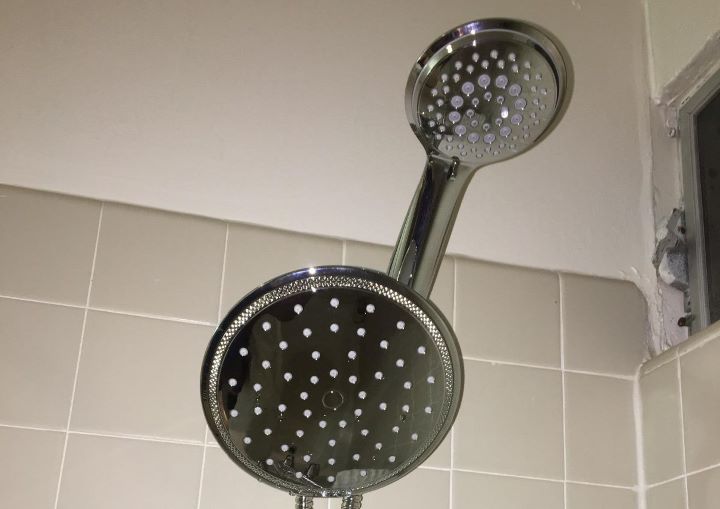 ---
6
A high-pressure dual shower head combined with a Pulse massage spray option and a five-foot hose from Waterpik.
The best dual shower head from Waterpik features high pressure 2.5 GPM flow and a dual shower head option with twelve spray settings and a Power Pulse Shower massage.
The revolutionary Power Pulse Massage Head delivers up to twice the regular shower massage heads' forces.
A diverter is included to choose the overhead rain showerhead or handheld showerhead, or both at once.
It installs easily and quickly with limited, too, requirements.
---
7
Another superb dual shower head model from AquaDabce features the antimicrobial and anti-clog high-pressure setting in a rainfall shower combination wave bundle.
A cleaner and safer shower for the whole family.
It has dual rainfall and handheld showerheads.
Anti-Clog, and Antimicrobial nozzles.
It improves the high-pressure water system.
Very easy to clean and longer product life span.
Lifetime Microban antimicrobial protection, as well as mold and mildew resistance.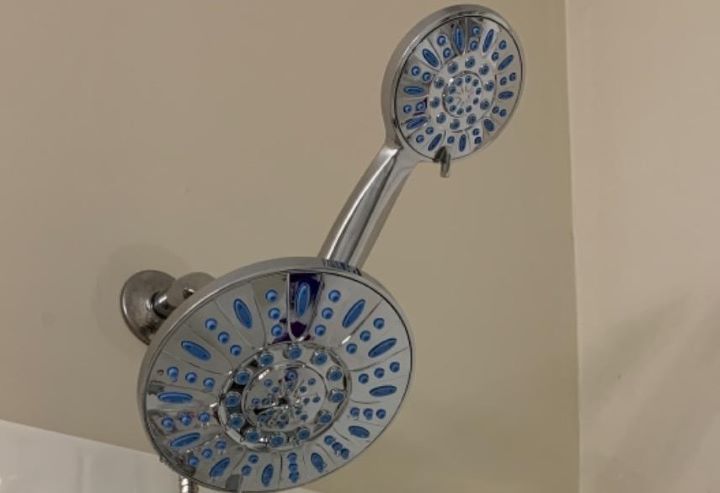 ---
8
The shower comes with a wide range of multiple options to explore.
DreamSpa Ultra-Luxury 9″ shower islets you have a blissful bathing experience with its premium features.
The flow settings can be controlled using the same hand through which you hold the shower.
The hose is 9 inches long and gives you the comfort to clean from shoulder to shoulder.
Features like high-power rain and aeration massage provide you with the luxury to have an enjoyable bathing experience.
The angle-adjustable solid brass ball joint nut prevents leakage and lets you place the shower at any angle.
---
9
The six-setting showerhead is easy to install and use and provides the luxury of taking a premium bath.
The AquaDance shower head is made to perfection with a 6-setting hand shower, 7-inch plastic ABS shower head, and multiple other high-end features.
It is easy to mount and can be done without any tools.
The shower has a large 4-inch face that disperses plenty of water to have an ultimate bathing experience.
It is built with Stainless Steel; the rub-clean jets helps in easy cleaning and preventing lime buildup.
---
10
Experience the most blissful bathing experience of your life with your loved ones with this premium quality showerhead.
The showerhead features six impressive modes of power rain, rain mist, rain massage, etc.
The shower's water-saving pause mode will not let you waste any water and help you get a soothing water-saving bath.
AquaDance shower is angle-adjusted, and you can point its aim in whatever direction you may like.
It has an ergonomic grip handle that ensures the shower does not slip from the hands while covered in soap.
---
Index Table: Top Rated Dual Shower Head for Couples
Introduction
Dual shower heads are an excellent choice for those who want to enjoy the ultimate showering experience. They offer a wide range of features, such as multiple spray patterns, adjustable water flow, and massage options. In this article, we will explore the best dual shower heads available in the market and help you choose the one that suits your needs.
Benefits of Dual Shower Heads
Dual shower heads offer several benefits, including:
Versatility
Dual shower heads come with a variety of settings and modes, making it possible to customize your showering experience. You can switch between different spray patterns, adjust the water flow, and even enjoy a massage option.
Convenience
Dual shower heads make showering more convenient, especially for couples or families with children. Two shower heads mean no more waiting for the other person to finish, and you can enjoy a refreshing shower at the same time.
Therapeutic Benefits
Dual shower heads can provide several therapeutic benefits, such as improved blood circulation, reduced stress, and relaxation. You can enjoy a massage option that can relieve tension and soreness in your muscles.
Best Dual Shower Heads
After researching and testing various dual shower heads, we have shortlisted the best options available in the market.
1. Delta Faucet 58480-PK In2ition
The Delta Faucet 58480-PK In2ition is a high-quality dual shower head that offers excellent versatility and convenience. It comes with a detachable hand shower, six spray options, and a pause feature. The shower head is easy to install and offers a sleek and stylish design.
2. DreamSpa 1432 3-way Rainfall Shower-Head and Handheld Shower
The DreamSpa 1432 is another excellent dual shower head that offers a 3-way rainfall shower head and handheld shower. It comes with seven spray settings, including pulsating massage and power rain. The shower head is easy to install and offers excellent value for money.
3. HotelSpa 30-Setting Ultra-Luxury 3-way Shower Head
The HotelSpa 30-Setting Ultra-Luxury 3-way Shower Head is a high-end dual shower head that offers excellent performance and features. It comes with 30 different spray settings, including rain, massage, mist, and pause. The shower head is easy to install and offers a sleek and stylish design.
Pros and Cons of Dual Shower Heads
Before making a decision, it is essential to consider the pros and cons of dual shower heads.
Pros
Versatile showering experience
Convenience for couples and families
Therapeutic benefits
Easy to install
Cons
Cost
Requires more water
May require professional installation
Conclusion
Dual shower heads offer an excellent showering experience and several benefits, such as versatility, convenience, and therapeutic benefits. After researching and testing various options, we have shortlisted the best dual shower heads available in the market, including the Delta Faucet 58480-PK In2ition, DreamSpa 1432, and HotelSpa 30-Setting Ultra-Luxury 3-way Shower Head. However, before making a decision, it is essential to consider the pros and cons of dual shower heads, such as cost, water usage, and installation requirements.
References
---
---