Let us face it most of us agree that the thought of an iron filter shower head was that it is only a moneymaking gimmick for fussy women or health freaks.
But let me assure you today, after reading up on many research findings, this is entirely untrue, and I have been thoroughly convinced that in today's life, it is a necessary "gimmick."
---
Dangers in Your Shower Water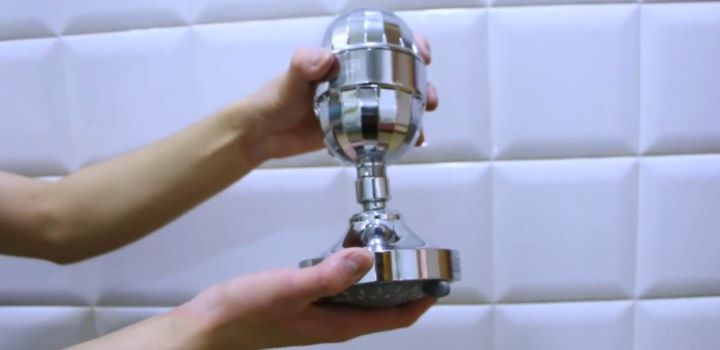 While you are scrubbing away in your shower feeling all cleansed, hygienic, and fresh, getting the bacteria and dirt off your body, have you thought about what lies in the water coming through your shower head, or even tap, for that matter?
Chemicals are used to clean and purify our waters to kill harmful pathogens and bacteria, but these same chemicals also kill good bacteria and cause various health issues. Chlorine, Fluoride, heavy metals, and even organic substances all creep through your shower head, which causes skin irritations, eczema flare-ups, dandruff, and dryness, and may even lead to life-threatening diseases.
So basically, to put it plainly, you are busy showering in pesticides, which in the end may not even be that effective against the pests it has to kill when you shower without a filter.
---
Some Good Reasons to Invest in Iron Filter Shower Head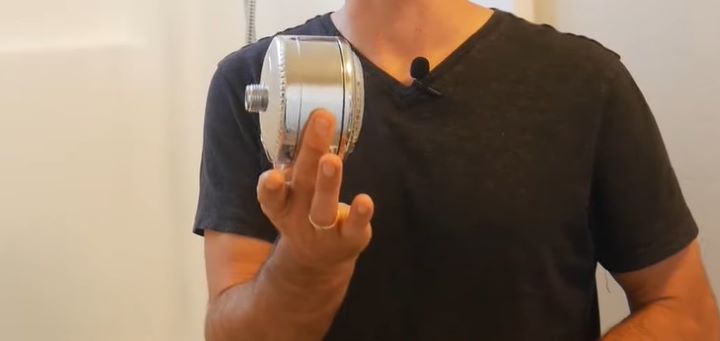 Here is what you are exposed to when you shower with an unfiltered showerhead or tap;

Unhealthy Bacteria – According to WebMD, some experts analyzed shower head brands from homes around the United States and Europe, and found an abundance of bacteria. The kind of germs varied by location, the chemistry of the water, and where they came from. Millions of microorganisms and bacteria pile up in your shower head and rain down on you the minute you open the shower. Your shower is the perfect humid environment for the growth of dangerous microorganisms. Besides, this soap scum and gunk build up in the shower, and the showerhead likewise harbors dangerous microorganisms. These bacterias and microorganisms, in the end, may lead to serious disease and health issues.
Skin Health – Chlorine and chemicals in your water and hard water can dry out your skin and cause faster aging and skin irritations. Then there is your hair and nails, which will become dry and frizzy hair and dandruff due to a loss in the water's moisture. A Filtration system keeps these chemicals out, and many are treated with Vitamin C and E to aid in skin moisturization and rejuvenation.
Chlorine Inhalation – Did you know that more Chlorine enters your body through inhalation while showering without a filter than by drinking tap water? Besides this, Chlorine also enters through your skin and has a drying and irritating effect.
Other Conditions – Chlorine exposure can also increase mental fatigue and depression and lowers your autoimmune function. This may well be the reason you sometimes feel tired and groggy when you get out of the shower. A Filtration system will help you feel much healthier and more refreshed.
Cancer – Some research has shown that Chlorinated water, particularly inhaled, can lead to lung cancer and other forms of cancer with prolonged exposure.
Pregnancy Risk – Chlorinated water can place a pregnant mother and her unborn child's health at risk. Then there is also a range of congenital disabilities and health hazards from constant exposure.
Children's Development – Chlorine and other heavy metals in unfiltered shower water can disrupt the development of children and can aid in the event of asthma.
Allergies – Chlorinated Shower damp inhalation is very well known to cause asthma and allergy attacks in children and adults. Chlorine may likewise cause sinus infections in your shower.
Excess exposure – We are already exposed to so many toxins and harmful substances in our food, water, skincare products and cosmetics, and even laundry detergents, perfumes, and scented candles. Chemicals and toxins are all around us and quite inevitable, but a small change can always make a huge difference in the long run.
---
Features of a Good Chlorine & Iron Filter Shower Head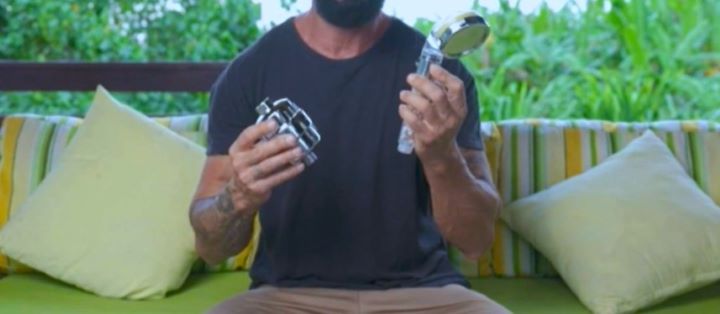 Filter – There are 12 or 15 stages on the filter. It filters out Chlorine, Fluoride, heavy metals, organic substances, dust, and other chemicals. It is for you to avoid problems and keep the water in the bathroom without rust and without harming your body.
Effects – Softens and treats the water. It added vitamin C and E for skin moisturization. It has a high Output water flow that is consistent.
Fit – It offers a universal, secure fit. So you can use it without thinking of not fitting.
Design – Durable and rustproof metal and design. So that you can use it for a very long period of time.
---
How We Test and Score Chlorine & Iron Filter Shower Heads
These reviews are based on intense research, analysis, and feedback from our experts and real users from different digital platforms.
We spent 21 hours trying, testing, and scoring these Chlorine & Iron Filter Shower Heads, for different key parameters and then shortlisted the best products in the market, saving you time and effort.
We used the following parameters for our tests and analysis.
Antibacterial – We analyzed how effectively the product work to fight or resist bacteria.
Reduced Skin Infection – We analyzed how effectively the product could prevent and reduce skin infection.
Durability – We researched how long users can use this product without any reported changes in its quality or design.
Non-Toxic – We researched the product's ingredients to ensure it was not poisonous and safe to use.
Rustproof – We checked how well designed or constructed the product was to prevent rust.
---
Frequently Asked Questions (FAQ) About Chlorine & Iron Filter Shower Head
---
Reviews: The Best Iron Filter Shower Head
Below are some of the best Shower Filters according to ratings and Consumer Reports;
We hope you love the shower filters we recommend!
So that you know, We may collect a share of sales or other compensation from the links on this page.

---
1
---
2
Are you tired of itching your skin? If so, install this AquaBliss made shower filter in your home and eliminate all skin issues.
The filter is highly efficient in providing anti-bacterial water that clears infections from your skin.
The filter is easy to install and does not require any additional tools in its assembly.
It is highly functional and reduces dirt, pharmaceuticals, pesticides, bad odors, and other toxic chemicals from the water.
It consists of calcium sulfate, redox media, and activated carbon to eliminate bacteria and harmful substances from the water.
| Rating Category | Weight % | Score |
| --- | --- | --- |
| Antibacterial | 30% | 100 |
| Reduced Skin Infection | 25% | 95 |
| Durability | 25% | 95 |
| Non-Toxic | 10% | 90 |
| Rustproof | 10% | 90 |
| Total Score | 100% | 95.5 |
---
3
A unique proprietary 12-stage filtration system that removes metals, and chemicals.
Softens and purifies water, removes odors, and balances the PH levels of your water.
Improves your hair, skin, and nails' health effectively and aids in moisturizing and protecting the skin against harmful substances.
Infuses beneficial minerals into your skin, nails, and hair from the first time you turn it on and will keep on doing so without compromise.
| Rating Category | Weight % | Score |
| --- | --- | --- |
| Antibacterial | 30% | 100 |
| Reduced Skin Infection | 25% | 95 |
| Durability | 25% | 90 |
| Non-Toxic | 10% | 90 |
| Rustproof | 10% | 90 |
| Total Score | 100% | 94.25 |
---
4
The 15-stage shower filter effectively cleans and softens water, reducing Chlorine, heavy metals, and organic substances. This universal shower filter has several filtering layers that ensure you get the safest and purest water flow at the other end.
It comes with replaceable cartridges that are easy to install.
It softens and purifies your water from chemicals and metals that dry out and irritate your skin.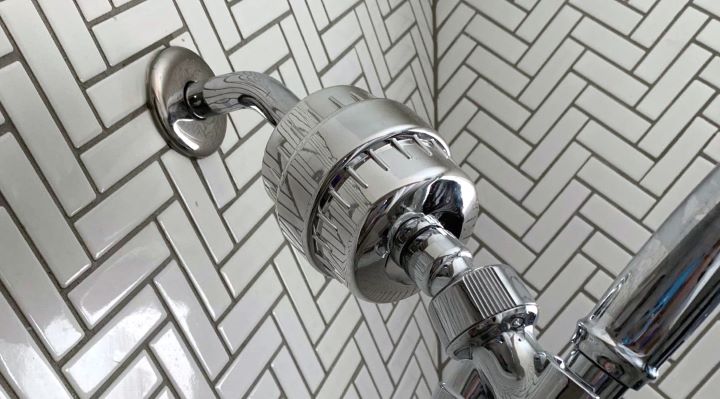 ---
5
This filter purifies and softens water, removing chloramine, Fluoride, Chlorine, heavy metals, and other sediments.
Reduces dry and itchy skin and helps with eczema and dry and itchy skin.
It ensures consistent water pressure with the high-performance inline filter.
Acts as a skin moisturizer, softener, revitalizer, and purifier in one unique shower filter, with added Vitamin C.
---
6
It purifies the water with a high output universal filter.
A removable and replaceable multi-stage filter dramatically removes harmful substances, reduces odors, and relieves fatigue.
Great for your skin rejuvenating and drastically reducing aging symptoms and effects while keeping your skin soft and moisturized and improving healthy minerals' absorption.
It is infused with vitamin C to nourish your hair and skin.
Fully compatible with most showers ib the home.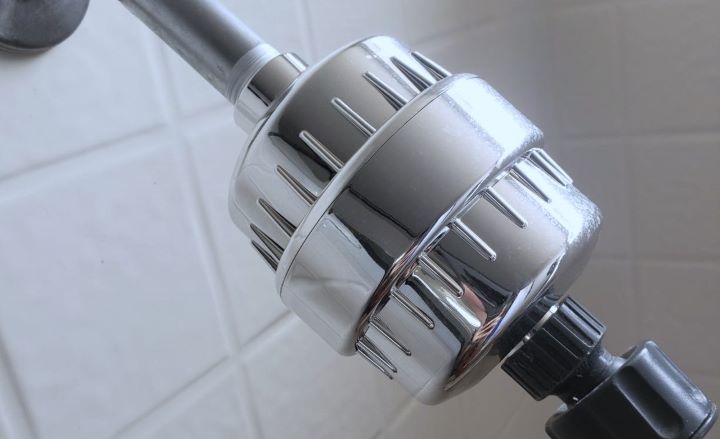 ---
7
A purifying water filter that effectively removes Chlorine, Fluoride, heavy metals, and other sediments inhibit bacteria's growth and scale in the bathtub and shower.
It reduces your risk of dry and itchy skin and helps with eczema and dandruff.
Completely compatible with most shower and handheld showers and offers adequate protection.
Softens water and provides consistently high output and pressure flow.
No more impurities, dry skin, and unpleasant odors!
---
8
Purify your skin with this advanced Chlorine and iron filter that prevents your skin from being exposed to toxic substances.
This multi-stage shower effectively reduces over 97% of the chlorine content from the water.
The shower removes unpleasant smells and restores damaged hair.
Two filter cartridges are additionally provided in the pack.
This shower filter is easy to install and does not require a plumber.
---
9
Check out this fantastic 15-stage shower filter that has high workability and can filter your shower water for a soothing shower experience.
The water passes through 15 layers of purification and is ideal for removing impurities like Fluoride, Chlorine, and other heavy metals.
The shower has a simple installation and can be mounted against the wall.
It is made of chrome plastic, which enhances the appearance of the shower.
The pack includes two packs of the filter cartridges, chrome ABS holders, Teflon tape, and rubber washers.
---
10
Prevent your skin from getting any infections with this highly efficient shower filter that comes with a 15-stage purification process.
The filter system removes hard water that can damage your hair and skin.
The shower can remove Chlorine from the water and leave your skin refreshed.
This shower filter is easy to install and requires no special tools for the process.
A replacement cartridge is provided that can be used when the existing one gets old or damaged.
---
Index Table: TopRated Iron Filter Shower Head
---
---