One of the trendiest bathroom accessories today for your shower is the Rainfall Showerhead, which is just an oversized Showerhead in a square or round shape with a steady stream of millions of Rainfall water droplets.
---
The Right Rainfall Showerhead for Your Shower
Many different technologies in Rainfall Showerhead options, most of which are installed to be overhead showerheads. Some companies even offer a ceiling tile Showerhead designed to fit your standard plumbing connections into the shower ceiling directly.
Some factors and benefits to consider when choosing your Rainfall Showerhead may include the following;
Room For Your Showerhead – Remember the Rainfall water from the Rainfall Showerhead tends to be quite substantial, and you will need ample room in your shower or tub shower to accommodate this bountiful spray. Most Rainfall showerheads are likewise large and should be installed correctly to prevent water from dribbling or squirting out of the sides.
Water Saving Options – One of the many benefits of installing a Rainfall Showerhead is the fact that you are likely to be conserving water because this high-efficiency Showerhead releases less than 2.5 gallons of water per minute compared to other Showerheads that release 5.5 gallons of water per minute.
Replacement Showerhead and Affordability – The Rainfall Showerhead is a quick, affordable, easily installed, and very versatile Showerhead to invest in, ideal for replacing old scum and calcium deposit-filled showerheads.
---
Best Rainfall Shower Head Types
Round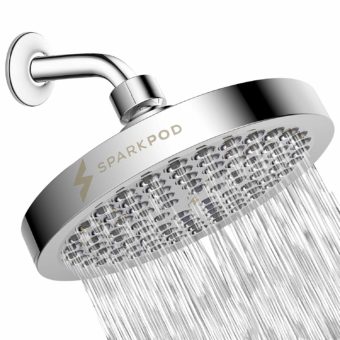 Usually, your smaller Rainfall showerhead types will come around and is also much more elegant and sophisticated, usually in six or 8-inch sizes.
Square


The large square Rainfall Showerhead comes in sizes from 8 up to 16 inches and is ideal for larger showers. Some even have an ultra-thin design.
Size Options – Size options can vary from 6 to 16 inches in diameter, with your larger options in square shapes. The Rainfall Showerhead is a large Showerhead type, so you must ensure that your shower can accommodate this type and its very bountiful water spray.
---
Features of a Good Rainfall Showerhead
Materials and Finishes – Chrome, Matt, Black, Silver, or Brass finishes that will suit your home décor. Made from brass or stainless steel materials that are durable and rustproof.
Nozzles – Anything from 100 to 324 nozzles depending on the Showerhead's shape and size. Vents are usually manufactured from durable silicone or plastic with an antibacterial or anti-clog design for easy maintenance, safety, and cleaning.
Rainfall Design – designed to give you a gentle yet massaging Rainfall shower experience with high Pressure and no flow or water pressure restrictions.
---
New & Trending Rainfall Showerhead
---
Reviews: The Best Rainfall Shower Head
Here are our picks of the best available Rain Showerheads that you will find. Also, please note that this page includes affiliate links, and we may collect a share of sales or other compensation from these links.
We hope you love the products we recommend!
So that you know, We may collect a share of sales or other compensation from the links on this page.
---
1
Get the BESy multifunctional shower head to relax you with the rainfall effect.
It has a stainless steel body, a hand-held sprayer, a shower wand, and a hose for a great shower experience – making it the best high-pressure rain shower head.
The Showerhead works with air injection technology to deliver impactful water pressure.
Moreover, this mechanism helps in saving water by thirty percent.
---
2
It is a 12-square Rainfall Showerhead with an extension arm and showerhead Rainfall design nozzle made from durable silicone from MeSun.
Enjoy this 12-inch large square-shaped Rainfall spray Showerhead with extra fine silicone nozzles.
A highly flexible and adjustable extension Showerhead arm is made from highly durable solid brass.
It installs very quickly and within seconds.
Tremendous pressure combines ultra-thin and air-in technology for strong water pressure.
---
3
Get this Shark Pod rainfall shower head that will give you a rejuvenating shower experience.
It will freshen your body and douse it with the pressurized downpour.
The Showerhead is easy to install without using any tools and plumbing work.
Moreover, the Showerhead will use less water to shower for longer without the high water bills.
---
4
This Voolan rainfall showerhead comes in a large 12-inches design to indulge yon-relieving showers.
It has an ultra-thin design that uses air technology to create Pressure in the water.
This square shower head is made of polished stainless steel for a luxurious feel.
The angles of the Showerhead are adjustable as per your needs.
---
5
The SparkPod Showerhead is a high-pressure rain nozzle showerhead with a gorgeous Chrome finish or stylish matt black finish.
Get this High-pressure Rainfall showerhead to replace your old Showerhead.
It has a speedy and easy tool-free installation.
Comes in a matt black or chrome style finish.
Easy rustproof and self-cleaning nozzles with ABS plastic and a 90-powered anti-clog silicone jet system remove hard water deposits.
---
6
The Depras Rainfall Showerhead has an extra thin design and comes in large to additional extensive square-sized options made from sturdy and durable stainless steel/.
This is a stainless steel Rainfall Showerhead with 324 powerful jets.
Comes in a large to extra large 8 inches, 10 inches, 12 inches, and 16 inches square size option.
It delivers soothing drenching Rainfall droplets with air energy technology for consistency.
A very high-quality ultra-thin Showerhead made from highly durable and rustproof Stainless steel.
---
7
The ManQi is another high-pressure stainless steel and ultra-thin square-styled Rainfall Showerhead with a Pressure Boosting design.
Ultra-thin stainless steel design.
It has self-cleaning silicone nozzles and a swivel ball connector.
High-pressure design with air-in technology.
Rapid and easy tool-free installation.
---
8
One of my top favorites is the Luxe RainLuxe Showerhead with a luxury chrome finished design and high-pressure Rainfall shower nozzles.
It can be easily installed and fits almost all showers within minutes.
A luxury chrome finished design is elegant and fits all home décor designs.
Over 100 anti-clog nozzles that are super easy to clean and have a high flow in water pressure.
Enjoy a spa experience in your shower with no flow or water restrictions.
Very durable and long-lasting and comes in different size options to choose from.
---
9
Consider getting this PinWin shower head with pressurized water delivery in a rainfall pattern.
The stainless steel material of the Showerhead has a mirror-like finish and looks elegant.
Moreover, the material is corrosion-resistant and not impacted by hard water.
It has an extra-long arm to adjust the Showerhead to your height.
---
Index Table: Top Rated Rainfall Shower Head
---
---