Want the best way to quickly and easily divert your handheld showerhead or tub into a shower?
Well then, follow this article that describes the magic of a shower diverter valve, giving you the option of putting a shower in your tub.
---
Shower Diverter Valve Types and Functions
Here are different types of shower diverters.

Three Valve Diverter for Your Bathtub – This type of diverter Valve turns your tub spout into a showerhead by redirecting water from the tub spout to your shower head. The Three Valve Diverter is used on a two faucet tap to control temperature, where you will turn the lever clockwise to divert water to the showerhead or anti-clockwise to divert the water to your tub again.
The Two Valve Diverter for Your BathTub – The Two ZValve Diverter for your tub is used to adjust the water temperature with a single dial or between the two different taps of a two-tap faucet. The Two Valve Diverter likewise has two L-shaped valves located at the center of the faucet, where the water temperature is adjusted. Turning the Diverter valve handle will, in turn, redirect the water from the tub spout to your shower head after you have set the desired temperature.
The Tee Diverter for Your BathTub – The Tee Diverter valve for your bathtub is a part of the bath spout, where the diverter handles only pulls up to send all the water from your tub spout up to your shower head. With this diverter valve, you cannot set the temperature first, so you need to get the right temperature outside the tub before entering your shower or tub.
The Shower Head Diverter – The shower head diverter is aimed at those who have multiple shower heads in their shower or who want to attain multiple shower heads in their shower. This type of Shower Head Diverter valve is elementary to install and quite affordable, and easy to come to buy at any local or online store.
---
Installing Your Shower Head Diverter Valve Quickly and Easily
The process of installing your shower head diverter valve is straightforward and quick to do, not to mention that this is a relatively small investment when it comes to time and money.

First, you will need to remove your regular shower head, it should unscrew very easily, or you may need a wrench for this task.
Now you will need to screw the diverter valve directly onto your water pipe, ensuring a tight fit and no water drips or loss of water pressure.
Place your original shower head on the diverter valve and again ensure that you have a nice and snug fit.
Install your handheld showerhead onto the diverter valve, and ensure it is tight and leak-free.
You can test the diverter valve in your shower by running water through the regular shower head and then using the lever or button, depending on your diverter model, to switch the water flow to the handheld showerhead. Ensure that both shower heads do not leak and have enough water pressure.
Leave the setup for a day or two and then test both shower heads again for leakages.
After this, you should be able to enjoy a warm steamy shower and use either your handheld or stationary shower head with no issues or fuss.
---
Choosing the Best Shower Diverter Valve
When you have found the type of Shower Diverter that you require, these simple tips will help you choose the best product;

Solid Metal – a solid metal and sturdy design that is durable and made from high-quality materials.
Parts and Instructions – ensure that the package has clear instructions and contains all the parts you need for a complete setup.
Rust Proof – A rustproof coating or metal that will last and not corrode after time.
Quality – Always go for a well-known and proven brand, rather than a cheaper version that may not last you very long or work properly.
---
Features of a Good Shower Diverter Valve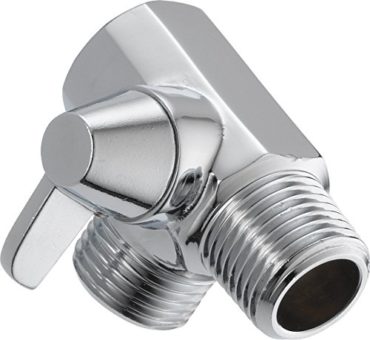 Construction – Durable Brass or Solid metal with a Chrome or satin finish that is rustproof and long lasting.
Design – A ½ X ½ female Inlet and Male Outlet system, easy lever control.
Variations – Three or Four way Multiple Purposes.
Control – Easy to use lever system.
Pressure Balance – Controls water pressure and keeps a safe temperature balance.
Compatability – Compatable with all shower brands and models, unless otherwise specified.
---
Reviews: The Best Shower Diverter Valves
Here are some of the Best Diverter Valves that you will find available today.
We want to inform you that we may receive a part of the sales profit when you purchase through the product links mentioned below.
---
1
The Delta Faucet diverter valve is the ideal attachment for a handheld shower.
Metal construction from high-quality brass with a chrome finish.
It comes with a lifetime warranty.
Allows water to flow from one shower head at a time.
Easy lever control and compatible with all standard showers.
---
2
The Qoonestl diverter valve is made of high-quality solid brass.
The two-way diverter switches water flow from a stationary to a handheld showerhead.
Compatible with all standard shower models.
It easily mounts to the shower arm.
It is constructed to resist scratches and corrosion.
---
3
The brash Diverter valve from Mingor is effortless to operate and install.
It comes with one G ½ female inlet and two G ½ male outlets.
It is made from sturdy brass in a simple one-piece design with a smooth turning lever.
Easy to install and can be tightened in any position or angle.
A shiny polished chrome finish.
---
4
Pop Sanitaryware's universal shower system replacement part is a perfect addition to your fixed and handheld showers.
The shower arm diverter has one G 1/2 female water inlet and two G 1/2 male water outlets, facilitating universal use.
It provides a no-hassle installation, tightening it down to any angle you like.
The convenient 3-way divider halves the water pressure when the two outlets discharge simultaneously.
You can easily install it with a handheld showerhead and fixed shower spray head.
The solid brass build ensures its sturdiness and longevity, don't worry about snapping it off.
---
5
The 3 Way Shower Head Diverter by QWORK actively adds features and convenience to your standard hand or fixed shower.
The unique diverter valve with added functionalities is the perfect addition to your bathroom or garden.
Made with premium quality brass, it ensures durability, water, and dust resistance.
The integrated cradle combines the handheld shower and the fixed showerhead.
It allows you to adjust the water flow between the hand shower and the fixed shower head with a switch.
The standard 1/2 inch connection thread fits most shower plumbing, facilitating wide usage and super easy installation.
---
[/super_list]
[/super_product]
6
The Mathtoxyz shower diverter valve with G Connector 1/2 Female Inlet and two G1/2″ Male Outlets fits most shower heads.
The multifunctional valve is suitable for a wall-mount handheld shower or fixed shower head.
It's constructed with 100% solid brass with chroming plating, enhancing its longevity and protection against rust and dirt.
The three-way T-shaped shower head diverter valve is smooth to divert and control the water flow.
Rubber gaskets are included, fitting properly and providing an anti-leak tight grip.
The modern design universal shower system replacement part will not look out of place; rather, its glossy finish will enhance the look of your bathroom.
---
7
Made from solid and highly durable brass.
It comes with the standard G ½ female inlet and male outlet valves.
The one-piece has a reliable mechanism that is exceptionally durable.
A solid brass handle.
Universal and will fit most shower hoses easily.
---
8
V-sincerity is a premier manufacturer of commercial and residential products that are beautiful, reliable, and versatile.
It features a control lever, which is an all-metal construction.
This versatile shower diverter valve is durable.
It is constructed from high-quality metal and features a chrome finish.
Also, it fits well with a standard showerhead and hose.
---
9
Zengest is one of the best manufacturers of commercial and residential bath products that are reliable and versatile.
A simple brass product with the stable rotation of the lever.
It has a smooth-moving 3-way connector that hands can operate.
This versatile product attaches easily to the shower arm and fixed shower head.
It features a brass sliding nut that you can tighten for easy angle adjustment.
---
10
YDmeet is one of the best producers of bath products that have both utility and beauty. Here is one of their premium products.
The three-way shower diverter connects to the shower arm and turns water between the handheld showerhead and fixed spray head.
It is made of high-quality solid brass metal material that provides immense durability.
The polished chrome resists abrasion and corrosion.
You can swivel the shower outlet for flexible use. You can adjust and rotate the hand shower easily.
---
11
With a polished chrome look, CACASO has managed to produce one of the best shower diverter valves as per looks and application.
This shower diverter has 1 G 1/2 female inlet and 2 G 1/2 male outlets.
Brass Slip nut allows you to tighten the diverter valve and adjust the angle.
The versatile design of the shower diverter fits all standard shower arms.
The polished chrome adapter has a one-piece switch handle lever that smoothly turns to convert between showerhead and handheld shower.
---
12
With a brilliant chrome look, this shower diverter valve from KES is sure to steal your attention for a moment.
The one-piece brass design has a sturdy and durable construction that makes it immune to high heat and pressure.
Its advanced ceramic disc cartridge provides you with a smooth moving experience of the valve. This also boosts its service life.
The shower diverter features 1 G 1/2 female inlet and 2 G 1/2 male outlets.
It comes with various add-ons like standard straight thread connections, washer, and Teflon tape.
---
Index Table: Top Rated Shower Diverter Valves
---
---