It's time to transform your bathroom and give it a luxury makeover with nothing but using a beautiful accessory called the waffle weave shower curtain. These are not only perfect for decoration but are also fantastic privacy protectors and water repellers.
If you have planned to get something exciting and stylish installed in your bathroom, this is the ideal thing you require. So here are some details along with the buying considerations and materials for the waffle weave shower curtain.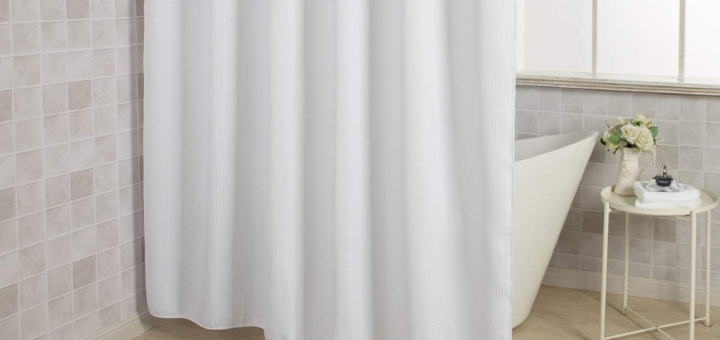 ---
Advantages of Waffle Weave Shower Curtain
Indeed, they add to the bathroom's aesthetic beauty, but they also some other benefits apart from this.

Decorative – Waffle weave shower curtains enhance the bathroom's beauty effortlessly. They are a perfect way to transform the look of your bathroom inexpensively.
Privacy Protection – The most important purpose of the shower curtain is to ensure that you get to be in your personal space without interruption. And these curtains are the ideal fit for that category.
Prevent Water from Spilling – The curtains are water and stain repellant. Since they do not absorb water, the bathroom remains clean and free of residue left after bathing.
Variety – Moreover, these are available in a variety of colors, designs, and patterns ranging from dark to light and solid colors, as well as multi-colors, giving you ample choices.
---
Buying Considerations for Waffle Weave Shower Curtain
Buying a waffle weave shower curtain is not difficult, but you need to take care of a few essential points while buying it.

Size – Make sure you buy the perfect size that is not too long or too short for the bathroom. A too long or short size might ruin the look of the place instead of beautifying it.
Fabric – Although they are available in all types of fabrics, it is recommended that you go for the ones that are water and stain-resistant.
Pattern – Keep your and your family's considerations on priority whenever you buy a shower curtain as the whole family has to use them.
Easy Installation – Besides, prefer the ones that are easy to install and have rings in them instead of metal grommets. Even if you choose the one with metal grommets, try to buy the one that is rust-resistant.
---
Common Fabrics For Waffle Weave Shower Curtain
So, ever wondered what all fabrics are used for making shower curtains and which one among them is the best.

Polyester – Polyester is the best and the most durable fabric used to make shower curtains. For a waffle weave shower curtain too, polyester is the best option to buy as it has all the key features that a shower curtain requires.
Cotton – Cotton too is a great absorbent of moisture and doesn't develop foul odor even after remaining wet from continuous bathing. It is easy to care for and is wrinkle-resistant.
Silk – Although silk is a costlier fabric, it makes space look more luxurious and royal than other fabrics. Also, it is a durable fabric.
Microfiber – Microfiber is a very soft fabric that gives a silky feel just like silk but is less expensive. Despite being a delicate fabric, it serves well for the shower curtain.
---
Reviews: Best Waffle Weave Shower Curtain
So, taking care of the above mentioned necessary points, we have made a list containing the best waffle weave shower curtains. Additionally, we want to bring this to your notice that we may earn some commission with every product you purchase using the links on this page. However, you will not be charged any extra amount.
---
1
These elegant grey colored waffle weave shower curtains have a unique square design that will give you a luxury hotel like feeling.
Besides, they are highly water-resistant and do not let the bathroom get dirty with soap residue.
Moreover, the curtain is made of high-quality fabric and rust-free grommets.
Most importantly, they are so easy to clean. You can straight away put them in the machine in a gentle cycle and dry them outside.
The shower curtains are durable and will not lose their quality or color even after multiple washes.
---
2
These shower curtains from River Dream are the ideal shower curtain if you are planning to transform your bathroom into a royal one.
Moreover, you can hang them without needing extra hooks as they have inbuilt rings for easy installation and removal.
Additionally, a replacement liner and the curtain prevent the water from spilling and covering up the curtain's transparency.
It is available in white color and is a perfect fit for all standard size bathrooms. Besides, the white color matches all the interiors.
Also, high-quality material is stain-resistant and doesn't lose its radiancy.
---
3
Made with 100% polyester, these shower curtains are water and dirt resistant.
Moreover, they are antibacterial and do not let the disease-causing pathogens breed on the curtain's wet surface.
It has an ombre shade ranging from all dark to light colors that decorate and enhance the bathroom's look.
Besides, the honeycomb-like texture makes the shower curtain opaque to ensure you get optimum privacy.
Apart from being pleasing, these curtains have easy maintenance. You wash or dry clean them as per your convenience.
---
4
These amazing shower curtains are made of heavy-duty premium quality polyester fabric that is durable and soft.
Moreover, the stylish white waffle-weave pattern adds grace and luxury to your bathroom.
You can also wash them in cold water in a washing machine and dry them either on low heat or in the sun.
Because of the premium quality, you don't need to worry about the fabric getting ruined or fading the color even after multiple washes.
Above all, the fabric will not shrink or get deformed. They gain their original shape once they are dried.
---
5
This white waffle weave shower curtain is made of a blend of 35% cotton and 65% polyester which makes it a demanded product.
Moreover, the honeycomb pattern gives a luxurious, spa-like feel and enriches your bathing experience.
Besides, the premium quality fabric makes elegant and upscale while keeping it durable and long-lasting.
Also, it contains 12 rust-resistant metal grommets that make it easy to install and remove the curtain anytime for cleaning.
It fits all standard bathrooms and is very easy to care for. All you need is to wash it in a machine or manually to clean it.
---
6
This pretty waffle weave shower curtain has a rick blush colored shade to make you feel like you are in the spa.
It doesn't develop a foul smell as it gets wet and instead repels water and stain.
Besides, it remains young and new, no matter how old it is. With these curtains, you can save yourself from the yearly ritual of buying a shower curtain.
It is not just a privacy protector but also a great accessory to decorate your bathroom and attract guests.
However, we suggest that you do not use any chemicals or bleach to clean it. A mild detergent will clean it easily.
---
Index Table: Top-Rated Waffle Weave Shower Curtain
---
---