The bathroom is, by far, one of the most tranquil spaces to decorate, as very little is required in this space.
However, the shower curtain is one thing that many individuals lack regarding functionality and decoration. This is particularly difficult in small bathrooms with limited space, as a shower curtain can quickly make your bathroom look over full and busy.
---
The Shower Curtain and their Purpose
Let's first consider the Shower Curtain and why it is necessary.
If you have a shower, particularly in smaller bathrooms or a tub shower, there may not be glass shower doors, and the only option is a shower curtain.
The right curtain enables you to keep your floors dry, gives an appealing look to your bathroom, and keeps you hidden in the shower, yet the wrong shower curtain can do precisely the opposite.
Most shower curtains are made from either vinyl, plastic, or Polyester and have the specific function of repelling moisture, keeping water inside the shower and providing a safe, enclosed space for showering.
The Shower curtain should be durable if anything, and resistant to water, mold, and mildew, as well as straightforward to clean. Decorative details are an added extra to give your bathroom an ornamental appeal.
---
Shower Curtain Do's and Don't's
When picking a right Shower Curtain for a smaller bathroom, there are a few DO'S and DON'T'S to keep in mind;
Hookless Shower Curtain Options – Most Shower Curtains come with a Hook fixture for hanging, either metal or plastic hooks. The main issues with hooks are that the metal ones usually rust after a while, and the hooks, in general, tend to rip through the material after some use easily. In this regard, a hookless version n this regard is rare but a better choice and comes with a snap-in liner. However, luckily today, most quality hook shower curtains are reinforced and protected against these issues.
Plastic Shower Rings – Plastic shower rings may solve your metal hook rusting issue, but they are not as strong and durable and more prone to staining. So, in this case, I would consider a treated metal ring rustproof.
Size – ALWAYS measure your shower space and consider the WIDTH and LENGTH of the shower curtain you purchase.
Consider White – Although there are so many fun patterns and colors available for shower curtains, keep in mind this is a long-term investment, and colors and patterns can make a small bathroom look crowded and smaller. White is used mostly by hotels and spas because it gives space, tranquillity, and cleanliness. On the other hand, white may be tricky to keep clean.
Texture – Similar to colors and print, a simple trim, ribbing, or enhanced design hem can make a huge difference and add a touch of creativity to the shower curtain, which is ideal for small bathrooms.
Plastic – Picking a Plastic Shower curtain is cheap, easy to clean, and may seem like the best option, however, plastic needs to be cleaned REGULARLY, and it does not last very long. Why not consider a fabric or fabric liner rather. Polyester seems to be the best fabric option for Shower Curtains; it is durable, long lasting, water, mold, and mildew resistant. It also has a softer and lighter feel to it.
---
Features of a Good Small Shower Curtains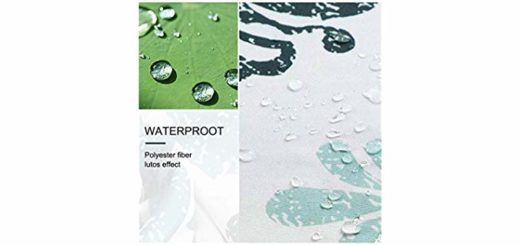 Water Repellant – Ensure the material repels water and the design keeps water inside the shower.
Mold and Mildew Resistant – Some fabrics are naturally mold and mildew resistant.
Colors and Prints – You can choose between many colors, prints, and texture types for shower curtains.
Machine Washable – Most shower curtains, except for plastic, are machine washable and very quick to dry.
Rustproof Hooks – Most metal hooks are coated to resist rust and to be much more durable, other than that, you can also choose plastic hooks.
Durable – The shower curtain needs to be durable and long-lasting. Look for reinforced seams and closures in the hook area. The weighted hem helps keep the shower curtain draping down and prevents it from flying around and becoming damaged.
---
Reviews: The Best Small Shower Curtains
If you are looking for the best available smaller curtains for your shower, then look no further;
We hope you love the products we recommend!
So that you know, We may collect a share of sales or other compensation from the links on this page.
---
1
---
2
The SfootHome Shower curtain comes in many colors and prints and is small enough for a smaller bathroom.
It is made from durable and water-repelling Polyester fabric.
Weights at the bottom ensure that the shower curtain stays perfectly draped down.
Comfortable wear, small in size, and extremely durable.
Available in many different color selections to choose from.
---
3
A small, elegant, printed shower curtain for smaller showers and bathrooms.
Three different neutral color and print options to choose from.
Small and compact for smaller bathrooms.
Made from water-repellent and durable Polyester, and comes with plastic hooks.
Extremely durable and machine-washable design.
---
4
From Mrs. Awesome, we have the Fabric shower curtain for smaller bathrooms.
Different sizes, lengths, and color options are available to choose from.
It is made from premium fabric that is water-repellent and durable.
Additional mesh storage pockets save space in a smaller bathroom.
The reinforced header prevents tearing and deterioration.
---
5
The Egoing Polyester Shower curtain is durable and smaller to accommodate small bathroom spaces.
It is made from durable and water-repellant soft Polyester.
Brightens up your bathroom and blends well with almost any bathroom décor.
Durable, water, mold, and mildew resistant.
Made from the finest quality polyester and has a reinforced plastic curtain hook design with anti-rust hooks.
---
6
The Yokii Tassel shower curtain has a a fun and elegant design and is available in different colors and sizes.
It is made from 100% durable and water-repellent Polyester.
Available in many sizes and lengths to choose from, ideal for small to medium bathroom sizes.
A visible weighted hem with tassel details.
It came in various colors and printed designs.
Durable and soft to the touch.
---
7
Elegant and stylish, these hotel-style small curtains are perfect for adding flair to your bathroom.
This curtain is available in multiple designs and patterns; you can choose one according to your taste and preference.
The fabric used is very soft and gives a premium feeling in touch.
It is easily washable through a gentle spin in any washing machine.
The overall size of this curtain is just about perfect, and you can install it without any modifications.
---
8
This shower curtain's overall size and shape are very compact and tactile, making it suitable for medium to small bathrooms and showers.
The quality of the fabric used in these curtains is impressive.
They are durable and will probably last you for a very long time.
It is water-repellent and doesn't allow water or soap scum to stick to it.
It is also PVC-free and has no vinyl or adhesive smell.
---
9
These shower curtains are built like a tank due to their excellent build quality and materials.
These curtains offer some good opacity without being too transparent.
The overall size and heavy weight of this curtain make it very sturdy.
The curtain itself is super easy to clean.
It is long-lasting due to the excellent selection of materials used.
---
10
These curtains look exquisite due to their unique ombre design.
The design and texture of these curtains are unique.
The ombre print is available in multiple colors, so you can choose the one accordingly.
It can be easily cleaned and washed manually or through a washing machine.
The Polyester used in this curtain is 100% pure and authentic.
---
Index Table: Top Rated Shower Curtains for Small Bathrooms
---
---