The best shower curtains are the ones that can spice up even a damp bathroom decor, apart from serving its purpose. And why not? They are the first thing one notices as soon as stepping into the bath.
So here we are with the best shower curtains in terms of looks, fabrics, durability, and maintenance. Besides, we will highlight additional information like most essential buying considerations, types of curtain fabrics, and more.
---
Important Buying Considerations for Shower Curtains
Check out these aspects that you must check for in each product before buying a new shower curtain for your bathroom.

Material – Shower curtains are available in various fabrics, from polyester to cotton and even bamboo. Polyester curtains dry quickly and are thus most in demand.
Size – Standard shower curtains come in 72-by-72-inches size. So you must check out the height of your shower rod once before buying. Once sure, you can easily buy a curtain as they are readily available in different sizes.
Sheerness – Some people prefer sheer curtains, some opaque and others completely transparent. Pick the shower curtain of your type. Also, some fabrics may demand the addition of a vinyl curtain to save them from getting wet.
Check for Hooks – Not all curtains are ready to hang, though all come with holes to place the hooks. Be sure to order separate hooks if your curtain doesn't come with them.
Weight – The curtain's weight is also important, and it must be moderate enough to load the rod. And at the same time, it must be enough to keep the curtain in place.
---
Tips to Clean Shower Curtains
The toughest part about shower curtains is often the cleaning. Let us make it easy for you. Read on.

Read the Label – First, each shower curtain may have personal care needs. So make sure to read them before you toss them into your machine.
Avoid Cold Water – Cold water is especially harmful to polyester and similar shower curtains fabrics since it makes them hard and brittle.
Use regular detergent only – Regular detergent is good enough to clean your curtains. Others that contain stronger ingredients may even damage your shower curtains.
NO Fabric Softener – Fabric softeners, instead of cleaning, add a visible film of detergent to the vinyl curtains that can further attract grime.
NO Dryer – never put your shower curtains in the dryer as they may develop cracks or even shrink.
---
Types of Shower Curtains and Their Features
Here's a brief list of the different shower curtains available on Amazon. Have a look.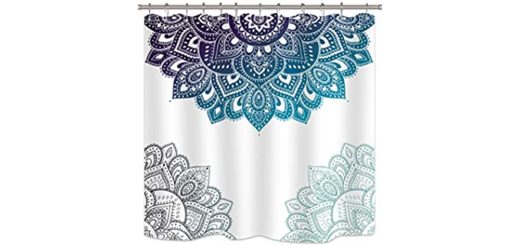 Microfiber Shower Curtain – Microfiber shower curtains are soft to touch and usually are available in vibrant colors and patterns. Their weight is good enough, and they also dry very quickly. Besides, they are easy to clean as well.
Vinyl Shower Curtains – Vinyl shower curtains are often transparent and paired with other non-waterproof fabric. They are also easy to clean.
Cotton Curtains – Cotton shower curtains are also in demand despite not being waterproof. They are preferred instead of absorbing moisture and paired with vinyl curtains to protect from getting excessively wet.
Shower Curtains with Pockets – Yes, curtains with pockets are also an option. However, these are normally not good in terms of hygiene, as water remains in the pockets for longer, though one may not mind the additional storage space.
---
Reviews: Best Shower Curtains
Check out these cool shower curtains we have compiled for you. Please note that we may earn a part of the profits for purchases via links on this page, though you won't be charged extra.
We hope you love the products we recommend!
So that you know, We may collect a share of sales or other compensation from the links on this page.
---
1
---
2
Creative Home Ideas brings one of the most elegant shower curtains in 100% polyester fabric.
These curtains are durable and dry quickly, though a new vinyl liner curtain is recommended.
The imported piece features metal hooks, which entail color-coordinated plastic beads.
Besides, these curtains by Creative Home Ideas are sure to last long as they come with rust-resistant metal rings and reinforced buttonholes.
Even the polyester fabric is fade-resistant, so you may feel free to wash or dry it in the sun after a machine wash.
---
3
If you have an eye for durable contemporary shower curtains that feature a chic pattern, this one is for you.
The Aimjerry curtains are available in three sizes and 100% polyester fabric, also known as the waterproof EVA fabric.
Since it is waterproof, you don't need to buy an additional linen curtain to protect it from water.
The rust-resistant metal grommets that these curtains contain add to the durability of this curtain.
Also, a lead wire has been inserted at the bottom rim, which is super light, yet gives it a good fall.
The best part? It is easy to wash. Just toss your machine, and it will appear as good as new.
---
4
Another great shower curtain by AmazonBasics comes with a transparent liner curtain.
It also comes with hooks, so it is ready to install as soon as it is out of the package,
The sober and natural herringbone pattern makes it a beautiful addition to any bathroom.
The polyester is specially built to resist mold and mildew, keeping it cleaner for longer. The fabric is also heavyweight so that the curtains stay in place.
---
5
The Maytex curtain contains an amazing look with delicate floral patterns in soft hues of purple and gray.
It is the best choice to kindle the decor of your bathroom instantly.
The Faux Silk Fabric Shower Curtains are easy to maintain and have the right sheerness and shimmer.
The buttonhole top makes it convenient to add both hooks or rings at your convenience.
Chocolate brown and black color variants are also available and look equally magnificent.
---
6
This shower curtain by Kassatex has a neat pattern in blue, gray, and teal colors on a white backdrop.
It has loops for hooks for hanging the curtains.
Since the curtain is made of cotton fabric, you must buy an additional vinyl curtain to keep it dry.
However, the kit is washable in the machine and with cold water. But there is a serious instruction not to bleach the fabric.
---
7
Get this Bermino shower curtain that has an ombre gradient design on it.
It is made of polyester fabric that is durable and easy to maintain.
The curtain is tear-resistant and does not crack up in places.
Its water-resistant fabric keeps the water away from the floor.
Moreover, the design and color of the curtain are fade-resistant even after machine wash.
---
8
The Barossa Design shower curtain has a waffle weave pattern to give a contemporary look to your bathroom.
It has a thick cotton-like fabric that is sturdy and long-lasting.
Moreover, the fabric is soft and gives a comfortable touch to the body.
The metal grommets of the curtain are rust-resistant for clean use.
---
9
Consider this ARICHOMY shower curtain with circular round patterns in blue color.
It is made of tough polyester fabric that is water repellent in nature.
The curtain dries quickly without any residue or strong smell on the surface.
It also has a weighted hem to ensure that the bottom of the curtain stays in one place.
---
10
The Lush Decor shower curtain will give a vibrant look to your shower area.
It has a 100% Polyester fabric for strength and functionality.
The curtain has a beautiful bird's design to bring a natural vibe to the place.
It also has buttonholes at the top for easy installation.
The curtain can be washed in a washing machine for easy cleaning.
---
Index Table: Top-Rated Shower Curtain
---
---