When it comes to decorating your bathroom, a shower curtain is an essential accessory. They protect the bathroom from excess moisture and sprays of water while you are showering. To ensure the curtains serve their purpose, you need to invest in the best shower curtain hooks.
Scroll down to read more about shower curtain rings and hooks, as well as the best ones available in the market.
---
Different Types of Shower Curtain Rings and Hooks
C-shaped – As the name implies, the rings are designed in the shape of the letter C. This is the oldest and most commonly used design. It is easy to install. One minor side effect is that it may create some friction while gliding.
S-shaped – This hook design is probably the most durable of them all. The top part hangs with the rod, and the curtain is hung on the bottom part.
O-shaped – O-shaped rings are the best in ensuring the curtain does not fall off the rings. The rings are pretty easy to install. Hang around the rod and pass them through the curtain hole and close off.
Circular Hooks – These circular hooks come with open and close clasps as needed. To install, open the clasp and insert the curtain before hanging it on the rod. Don't forget to shut the clasp.
Dual-sided Hooks – This design is the most ideal as it lets you hang the shower curtain and liner simultaneously. The dual-sided hooks may be prone to corrosion and damage if they come without roller balls.
Hooks with Rollerballs – Rollerballs are possibly the biggest invention for curtain hooks and rods. They are smooth and small balls added to the top part of the shower curtains and rings to reduce friction. As a result, you get a smooth gliding motion when you drag the curtain to open or close it.
---
Materials Used to Make Shower Curtain Rings and Hooks
Metal – The most sturdy and durable option, when it comes to curtain rings is metal. They are coated to withstand moisture. Depending on the quality of metal and polish, they can be rustproof.
Plastic – The most commonly available curtain rings are made of plastic. They are readily available and inexpensive. These are quite sturdy, and there is no risk of corrosion or rust.
Wood – Wooden hooks give off a vintage and rustic feel. These fit right in a spa or cabin setting. Keep in mind that these may be unable to withstand a lot of moisture.
---
Shower Curtain Rings Vs. Hooks
Shower Curtain Rings – Shower rings are designed to suspend a curtain from the rod. Encircle the whole rod. Most often, curtain rings are not decorative. A curtain ring may hang the shower liner in some designer bathroom treatments, whereas the shower curtain is hung on decorative hooks.
Shower Curtain Hooks – Shower hooks literally hook over the curtain rods. Hooks often have a decorative button or design on the end of the hook that faces outwards from the shower curtain. Both designs serve a purpose, so it all comes down to your personal preference.
---
Features of Best Shower Curtain Hooks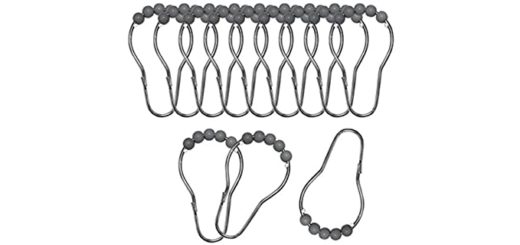 Materials – Good shower curtain rings may be metal plastic or fiberglass.
Design – The design of the rings or hooks need to be easy to use, as well as to install and slide.
Colors – You will get some ocvolor options in shower hooks and rings depending on the brand and model.
---
Reviews: Best Shower Curtain Hooks and Rings
Here are the top shower curtain hooks reviews for you. Also, please note that this page includes affiliate links.
---
1
The shower curtain rings are made of high-quality steel.
It offers a smooth glide and a snag-free movement.
The shower curtain rings are polished bronze for a stylish and classic look.
These rings are durable and rust-resistant.
These best shower hooks measure 0.5″ x 2″ x 3″ to fit standard shower curtain rods.
This package contains 12 heavy-duty shower hooks.
---
2
The decorative shower curtain rings are long-lasting, durable, and a thing of beauty.
These shower curtain rings come with a chrome polish to suit every bathroom.
This product is guaranteed against red rust.
The curtain rings come with a clap closure to prevent the curtains from slipping off the rod.
Each pack contains 12 curtain rings and is suitable for both curtain and liner.
---
3
These shower curtain rings make it easy to open and close the shower curtain.
This is due to the double roller glade rings, which slide quietly and easily.
The double-sided hooks allow you to hang the shower curtain and shower liner separately to save it from the mold.
It is made of durable and rust-resistant metal.
Each pack contains a set of 12 shower curtain rings.
---
4
The shower curtain rings are hassle-free and do not snag on the rod.
These hooks have uniquely engineered spherical balls to reduce friction for ease of movement.
The double shower curtain hooks allow you to hang both curtain and liner on each side.
Amazer's shower curtain rings are made of sturdy stainless steel with a polished white finish.
Each set contains 12 shower curtain rings for standard-size rods.
---
5
The spherical balls on these curtain rings reduce friction and allow smooth gliding.
You can easily open and close the shower curtain without any snagging and hassle.
The hooks are strong enough to hold a heavy curtain.
These hooks can be sealed shut to make sure the curtain does not slip off the rings.
Uigos's shower curtain hooks are made with steel, with a polished nickel finish.
Each pack contains a set of 12 hooks designed for a standard-sized rod.
---
6
These curtain rings glide without any effort to allow for easy opening and closing movement.
The hooks are strong enough for a heavy curtain and can be closed off as well.
These hooks are made with a combination of heavy-duty brass and stainless steel and can withstand a heavy curtain.
The non-magnetic 100% pure stainless steel is corrosion-free and rust-resistant.
Amazer's curtain rings come with a stylish polished bronze finish.
Each package contains 12 rings.
---
7
These shower curtain rings are made with durable and lightweight plastic.
They are flexible and easy to install and remove.
Each package contains a set of 24 hooks.
The C-shaped hooks slide effortlessly across the rod and ensure that nothing slips out.
Qulable shower curtain rings are designed to fit standard-sized rods and are rust-free.
---
8
---
9
These shower curtain hooks are carved out of pure stainless steel
The quality of these hooks is superb, with excellent sturdiness and reliable design.
Beaded design on the top of the hooks prevents any disturbing noise.
They have an anti-drop technology in them, which prevents the curtains from any accidental falls.
---
10
The beautiful dark brown color of these best shower rings makes them stand out from the rest.
These hooks provide a very smooth gliding experience.
Sturdy latch adjustments provide excellent balance and movement.
The top of the hooks is embedded with round metallic balls to prevent any breakage.
---
Index Table: Top-Rated Shower Curtain Hooks and Rings
---
---