Vinyl shower curtains are an ideal choice while you are looking for simple decorating ideas for your bathroom. The primary material of this curtain is vinyl, which is extremely durable. Besides, when it comes to maintenance, you can easily count on these shower curtains.
Therefore, if you are having second thoughts and are not sure about whether you should buy these curtains or not, read along! This blog contains all the vital information regarding vinyl shower curtains.
---
Types of Shower Curtains
There are different types of shower curtains. While you may want to add more color or texture to your bathroom with beautiful shower curtains, you need to look at how functional they will be. Written below are the different types of shower curtains to choose from. Take a look!

Cotton Shower Curtains – When it comes to bathroom decor, cotton shower curtains are an ideal choice. The fabric is super light and easy to maintain. Besides, it adds a calm decor to any bathroom space. Since cotton absorbs moisture quite easily, it is advised to use a liner with it. This will help to keep the mold and mildew away.
Decorative Shower Curtains – The ideal way to make your guests feel more welcomed is by adding decorative shower curtains to your guest bathroom. These come in a variety of fabrics, mostly high-quality, and feature stylish patterns. You will also find fancy designs and embellishments. However, while you are looking to add more elegance to your bathroom with these shower curtains, it becomes essential to take proper care of them for increased longevity.
Microfiber Shower Curtains – If you do not want plastic curtains in your bathroom, microfiber shower curtains will do wonders for you. This material does not give way to mildew if the bathroom is well ventilated. Moreover, these curtains' weight is more when compared to a cotton shower curtain, which makes it suitable for more water pressure.
Vinyl Shower Curtains – Are you looking for a low-maintenance shower curtain that handles the job with ease? We have the perfect option for you! Vinyl shower curtains do not require much care since they are easy to clean. These repel moisture naturally and ensure maximum cleanliness from mold and mildew.
---
Top Benefits of Vinyl Shower Curtains
Are you tired of cleaning your shower curtains every once in a while? Does the inability of your shower curtain to hold water keeps it damp throughout the day? If yes, here is an alternative – vinyl shower curtains! From being reasonably priced to highly functional, there are various benefits of shower curtains. Read along.

Mold and Mildew Resistant – One of the major reasons why vinyl shower curtains are super beneficial is because they have the ability to resists mold and mildew. It ultimately helps in keeping your bathroom clean.
Waterproof – Since vinyl shower curtains are waterproof, and you won't have to worry about them soaking water while taking a shower. The water will eventually drip down into the tub, making sure that your bathroom keeps smelling nice.
Easy to Clean – Another benefit of these curtains is that they are super easy to clean. You have to take them down and use a clean cloth to wipe the stains away. Besides, you can also use a little bit of liquid detergent if the stains go away using a cloth.
Highly Durable – Since vinyl is a durable material, these curtains will go a long way in your bathroom. Forget about getting new ones after every while and invest in some high-quality vinyl shower curtains.
---
Features of the Best Vinyl Shower Curtains
While buying a vinyl shower curtain is no rocket science, a few things need consideration. Go through the important points mentioned below in the guide and get the best vinyl shower curtains for your bathroom.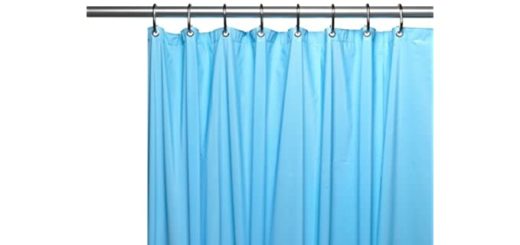 Size – The size of the curtain plays an essential role. You wouldn't want a shower curtain that is too short or not wide enough. Therefore, before buying a shower curtain, make sure you check the dimensions properly.
Design – Vinyl shower curtains feature some really interesting designs and patterns. If you want your bathroom/shower to look more elegant, go for those with an interesting design. Besides, you can also add colorful vinyl shower curtains to your kid's bathroom.
Eyelet Rings – While looking for the best vinyl shower curtains, make sure they have eyelet rings. These help to fix the shower with the rod easily. You won't require buying additional hooks.
[/super_list]
---
Reviews: Best Vinyl Shower Curtains
Therefore, keeping your needs in mind, we have curated a list of the best vinyl shower curtains for you to buy. It is also to inform you that we may get a small part of the profit if you buy any product from the links given below.
---
1
The shower curtain by Carnation Home Fashions comes with metal grommets.
You can clean it with a wet/damp cloth.
This shower curtain features weighted magnets that prevent the splashing of water.
---
2
This vinyl shower curtain is super durable and will save you from a lot of hassle.
The heavy-duty clear stones at the bottom add weight to the curtain so that it remains straight.
There are twelve metal grommet holes for you to accommodate decorative or regular hooks.
---
3
This shower curtain by WELTRXE is waterproof and will keep your bathroom looking clean and fresh.
It is made with chlorine-free non-toxic material, which ensures to keep you and your family safe.
Apart from that, it also features weighted magnets at the bottom to keep the curtain in place.
---
4
This shower curtain by ARICHOMY is a perfect fit for any bathroom.
It has a textured design that will enhance the look of your shower.
The material features ethylene-vinyl acetate, which makes it eco-friendly and safe for your family.
---
5
This shower curtain is made up of ethylene-vinyl acetate and protects the floor from water splashes.
It easily blends with any bathroom design and enhances the overall look.
The weighted hem comprises three magnets at the bottom, which keep the curtain in one place.
---
6
The vinyl shower curtain by AmazerBath is super thick, which makes it extremely durable.
It is super easy to clean. You only require a damp cloth.
You can also put this multipurpose shower curtain inside your camper, motel, dorm, or hotel.
---
7
An extra heavy-duty vinyl shower curtain.
It is designed to be completely water repellent.
Easy to clean with just a quick rinse.
The header is reinforced and has rust-proof grommets.
---
8
A heavy-duty, durable vinyl shower curtain.
It comes in a few solid colors from which you can choose.
It easily wipes clean with a damp sponge.
It has weighted magnets and metal grommets that are rust-proof.
---
9
These Vinyl Shower Curtains come in a variety of prints and colors.
The curtain is durable vinyl and chlorine-free,
It comes with 12 shoer hooks for your convenience.
The shower curtain is very durable and repels water.
---
10
A heavy-weight 10-gauge clear vinyl shower curtain.
It is extremely durable and water-resistant.
A practical and easy style that will suit all décor colors and designs.
The Header is reinforced and there ate rust-proof metal grommets.
---
Index Table: Top-Rated Vinyl Shower Curtains
---
---