Quick-dry camping towels are super versatile as they are lightweight, quick-dry, and take up very little space in the luggage. Therefore, they are great for backpacking, camping, a day out to the beach, and other outdoor activities.
These towels are a great invention; however, a rough towel can make you feel like you are drying yourself with a paper napkin. So, to help prevent such an experience, the best quick-dry towels are listed below.
---
What Towels Dry the Fastest?
Packing a wet towel with the rest of your belongings sucks, so find out which fabric towel dries the fastest.

Bamboo – The material is very durable, natural and eco-friendly. These towels are plush, absorbent, and dry relatively quickly.
Turkish Cotton – Towels made with Turkish Cotton are usually densely woven, therefore, very luxurious. However, it takes a very long time to dry due to the double weaving.
Egyptian Cotton – While Egyptian Cotton is known for its high quality and durability, it is also not a quick-dry option among towels as these are thick.
Microfiber – Most quick dry towels are made of microfiber, lightweight, absorbent, compact, and dry very quickly compared to their counterparts.
---
How Do You Dry Towels When Camping?
We believe that creativity is key here; however, we will give you a few ideas below.

Camping chair – If you are camping or on a lakeside picnic, you will be carrying a camping chair, and the chair's backrest is the perfect place to hang your towel.
Suction cup bar – These suction cup towel bars are easily available online; these can be attached to your vehicle. And can allow your towel to air out nicely without touching the vehicle itself.
Side mirror – If you have no other option to place your towel on, use the side-view mirrors of your car or your RV.
A tree – Most quick-dry brand towels come with a loop that can be used to hang the towel, so you could hang your towel on a tree if none of the options above are available.
---
Do I Need a Camping Towel?
We pitted a quick dry camping towel against a regular towel that may be hanging in your bathroom. Let's see how the two compare.

Absorbency – The quick-dry towels are designed to be thinner than regular towels; surprisingly, they absorb more and faster.
Dry Time – This is where quick-dry towels shine, as they take half the time regular cotton towels take to dry.
Smell – For experiment's sake, you could keep a quick-dry towel damp for three days, and it will barely smell, whereas the cotton towel will be rendered unusable.
Packability – A quick dry towel can be folded down to a significantly small size and lightweight; however, the same cannot be said for its cotton counterpart.
---
Features of a Good Quick Drying Camping Towel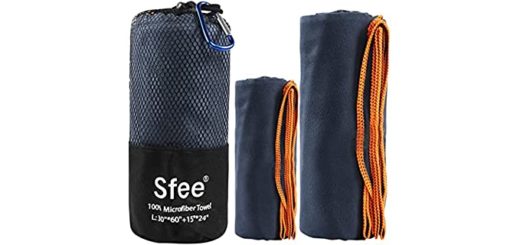 Materails – Materails can include microfiber, polyester, or cotton, durable and absorbent. Bamboo may likewise be used.
Design – Camping towels are designed to store compactly and to dry very quick;ly. They are usually thin and lightweight.
Size – Most camping towels will be a regular bath towel size or smaller.
---
Reviews: Best Quick Dry Camping Towels
Here is a brief list of the best quick dry towels to help provide more travel-friendly options. We hope you find the products we recommend helpfully. So that you know, we collect a share of sales made from purchases using the links given on this page.
We hope you love the products we recommend!
So that you know, We may collect a share of sales or other compensation from the links on this page.
---
1
---
2
The mesh material is very breathable and helps keep the towel at a cool temperature.
You should soak the towel, wring it, and wear it around the neck to keep cool.
In addition, the unique cooling mechanism uses moisture from the towel to draw away sweat from the skin, making it one of the best towels for summer camps.
Also, the towel is excellent for fever or headache therapy, hot flashes, and heatstroke prevention.
The towel comes in a reusable pouch and a carabiner clip for space-efficient carrying.
---
3
It is probably the best quick dry beach towel out on the market, as it also repels sand.
This super-absorbent beach towel can soak up 5-times more water than its weight.
The towel has a 88% polyester and 12% nylon blend making the fabric durable and soft against the skin.
Moreso, the towel can be used reversibly and is available in fun colors and patterns.
The oversized beach towel can be used as a spreadsheet on the sand or as a blanket if unfolded completely.
---
4
Brooklyn Bamboo is super proud to offer its premium bamboo towels.
It is made with bamboo fibers; the towel is incredibly light and soft. The towel is free of any chemicals and harmful dyes, making it suitable for your babies.
The bamboo material makes the towel good for your skin and the environment.
This towel is super easy to clean; chuck it in the washing machine and then in the dryer.
---
5
This is one of the top quick dry towels for camping available online and is good to pack for any situation.
The towel is available in three convenient sizes and vibrant colors.
In addition, microfiber is known for being super absorbent and quick to dry out, making it perfect for traveling.
Youphoria towels come in a convenient travel-friendly bag and a quick-snap loop for hanging them anywhere.
---
6
These fun striped microfiber towels are ultra-soft and are available in two sizes: XL and XXL.
The material of the towel is highly porous, so it is excellent for the beach or swimming pool.
The towel is compact when folded, odor-free, and sand resistant.
These towels are easy to maintain; machine-wash with cold water and then tumble dry on a low setting.
---
7
The Wise Owl towels are ideal for camping.
They are lightweight and quick drying.
The towels consist of microfiber that is thin yet very absorbent.
They can be folded quite compactly and are highly portable.
---
8
From Rainleaf, we have lightweight camping towels.
They are microfiber towels and very absorbent.
You can fold them ultra-compact for packability.
There are also more colors available.
---
9
These are the ideal beach and camping towels.
They come in a stunning Mandala print and consist of microfiber.
The towels were very absorbent and lightweight.
You can fold them quite compactly.
---
10
Here we have a compact folding and fast-drying towel for camping.
The towel is 100% microfiber and very absorbent.
It is available in a few more colors.
The towel is durable and folds up quite compactly.
---
Index Table: Top-Rated Quick Dry Camping Towels
---
---