After a soothing shower, the perfect comfortable and soft fluffy towel is all you need to dry yourself off.
There are many different Towels and materials, each with its advantages, so we have taken some of these towel types' best options.
---
Finding the Best Shower Towels for Your Needs
Here are some key considerations when finding the best Shower towels to suit your personal needs;
Materails – General cotton is soft, fluffy, and absorbent, while Egyptian and Turkish cotton is more high-end and luxurious. Microfiber is another durable, affordable option and dries extremely quickly; it is also very lightweight but not as luxurious as cotton.
Size – Towels comes in either a bath towel or bath sheet size, and then there are also hand towel and face cloth options. It is always great for décor purposes to match your towels and hand towels or washcloths.
Weave – Different weave styles can be used for different loft and feel effects, such as the harder honeycomb weave design or the much softer ringspun cotton brushed weave.
---
Shower Towel Sizes and Fabrics Used
Size and Shape Options – As I have mentioned, you can get a regular sized bath towel that is just big enough to cover half of your body, or you can opt for a full-body sized bath sheet size; the price will increase with the size of the towel. Most towels come in sets, including a hand towel and a washcloth in similar fabric and colors.
Weaves – Different weaves and spun cotton create different textures, which can be either very thick and plush or lighter, thinners, and a bit harder, which is all up to your personal preference. However, the lighter towels will dry much faster, and your thicker options are more absorbent. The waffle weave has almost a honeycomb design with small blocks; then, ripple designs, bordered towels with decorative borders or ribbed borders, and Plush brushed or combed cotton.
Fabrics Used – The two most popular fabric are cotton and microfiber. Microfiber is the cheaper version that is very thin and lightweight and can absorb almost ten times their weight in moisture, with the ability to dry again almost instantly. It is said that Microfiber is the best towel option for your hair because of its weight, pliability, absorption capabilities and because it is less drying on your hair. Cotton, however, is more readily available, plush, and soft. You can choose between regular cotton or more luxury Turkish cotton, which has a GSM of 700, making it more plush and luxurious, or the absolute cream of the Egyptian crop cotton with a GSM of 900.
---
Features of a Good Shower Towel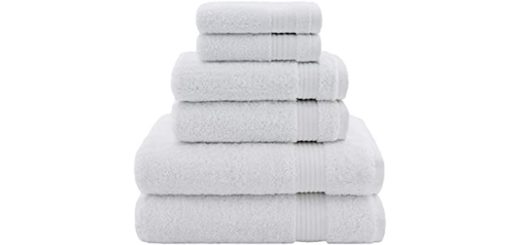 Materails – Made from either 100% cotton, Turkish cotton, Egyptian cotton, or microfiber. Soft and plush with high absorbency.
Options – Available in different color options as well as size options and sets.
Construction – It has quality manufacturing with reinforced seams and borders.
---
Reviews: The Best Shower Towels
Below you will find some of the top-rated shower Towels available today. Also, we would like to inform you we shall earn a small commission with every purchase made through the links in the article.
---
1
Utopia, a favorite in towel brands, has its ultra-soft and absorbent natural cotton range of shower towels.
Different size and color options are available for your perusal.
It is made from 100% pure and soft cotton.
It has woven with ring-spun cotton fabric.
It comes in different set options with a bath sheet, towel, and hand towels.
Machine washable and tumble dry on low.
It has very soft and absorbent cotton that is light in weight.
---
2
From Chakir Turkish Linens, we have the most luxurious Turkish Cotton Towels, which are a real treat.
It is made from the most exceptional Turkish cotton ring-spun, making them very soft, fluffy, and absorbent.
It comes in a set of four bath towels, which are ideal for shower towels.
Eco-friendly and natural washing design.
Some color selections are available.
---
3
Towles Beyond makes some of the best heavy-duty shower towels that you will find.
It is made from soft cotton linen designed with a Chevron Dobby and complemented with matching hand towels.
It is made from soft and fluffy Turkish cotton that is combed for a thicker and weightless loft.
Very durable and heavy-duty design towels are available in a few color selections.
---
4
The Gilden Tree Waffle weave design towel is another excellent option for a great shower towel.
It is made from Eco-Friendly Defoliant free pure Oeko-Tex certified standard quality cotton.
The towel has an extraordinarily absorbent and flat honeycomb design.
Fast drying and highly durable.
It comes in a few color selections for your perusal.
Generously oversized, so it accommodates for shrinking when washed.
---
5
The CYBZ towel from Microfiber is a budget-friendly, high absorbency, and quick-drying towel option for showers.
It is made from durable and soft Microfiber.
Microfiber is highly absorbent and also dries extremely fast.
Soft and much less bulky than other towel fabrics.
Infused with bamboo and charcoal for antibacterial and absorbency properties.
---
6
The JML Oversized microfiber towels are a lightweight and quick-drying option ideal for shower use.
It is made from 100% lightweight and quick-drying Microfiber and is available in plenty of color selections.
Absorbent and swift drying and can be washed and reused hundreds of times.
Easily machine washable and quick-drying, and very durable.
It can be used as a shower towel, beach towel, or gym and fitness towel.
Alos one f the most budget-friendly toweling options that you will find.
---
7
Get these natural Ariv Collection shower towel sets that come in a pack of four.
It has 30% Natural Bamboo and 70% Natural Cotton for a soft, comfortable touch.
These towels are highly absorbent and stay the same for a long time.
Moreover, they are mildew-resistant, anti-fungal, and odor-resistant.
They have a lightweight that does not make them feel heavy on the body.
---
8
Consider these 100% cotton towel sets from AmazonBasics in navy blue color.
You will get two bath towels, two hand towels, and two washcloths in the pack.
These towels are anti-fade and retain their bright appearance even after washes.
Moreover, the fabric is tear-resistant and does not shed.
They have a classic simple pique border for sturdy use.
---
9
Get the REGAL RUBY grey bath towels that have 100% Turkish Cotton fabric.
They are soft to touch and plush on the skin with the absorbent fabric.
Each towel is spun with staple cotton to make it durable and functional.
These towels are generously huge to accommodate anyone.
---
10
The Cotton Craft shower towel has a lightweight cotton fabric that does not shed.
They come in a pack of seven with vibrant colors, including ivory, blue, white, charcoal, and navy.
These towels are machine washable without impacting the color and fabric.
They come with sewn edges to prevent any threads from coming out.
---
Index Table: Top Rated Shower Towels
---
---