Bath towels are a regular commodity in our daily life, so they don't have to be bland-looking or boring. If you want to invest in a new set of bathroom towels but are unsure of your options, dive into the world of decorative bath towels.
Check our list of towels reviewed below to find the most gorgeous and luxuriously soft bath towels that suit your style.

---
How do you arrange decorative towels in the bathroom?
Here's a short video on different ways of easily arranging your decorative towels.
---
Do Towels Dry Better on Hooks or Bars?
Choose the best-suited hardware for your bathroom to keep your towels in the best shape possible.

Towel bars are a great option if you have plenty of wall space near the shower or sink. The towel bars allow the towel to dry faster while being spread out.

However, hooks are ideal for smaller bathrooms where a bar's worth of space isn't available. It's also suitable for bathrooms used by multiple people as more than one hook can be installed without taking up too much space.

Additionally, Rings are another option to dry towels in smaller bathrooms. These can be placed within easy reach of the sink to avoid drips on the floor.
[/super_list]
---
How Do You Wash Decorative Towels?
Washing a towel for hygiene and freshness is quite obvious. However, it is equally important for the longevity of the towel. Properly washed and dried towels remain mildew-free for way longer and save you shopping time and money.

Machine Wash – It is ideal for washing your towels weekly. Try washing your towels separately from other clothes as they tend to absorb the color. It is recommended that you wash your towels before use. Towels also require only half the amount of detergent compared to other clothes.
Hand Wash – Washing towels by hand keeps them from wearing out as quickly as washing machines. For best results, soak your towels in lukewarm water and detergent for 40 to 60 mins. Later, agitate your towels thoroughly and rinse out the detergent. Make sure to wring the towel properly before drying.
Spot Cleaning – Some decorative towels have delicate embroidery or embellishments that might get ruined if washed in a machine. You can gently clean the towel by hand, avoiding areas with decorations.
Tumble Drying – Most bath towels can be tumble dried after a wash; however, keeping the dryer on a low setting is recommended. Some materials are to be air-dried.
---
Decorative Bath Towels Features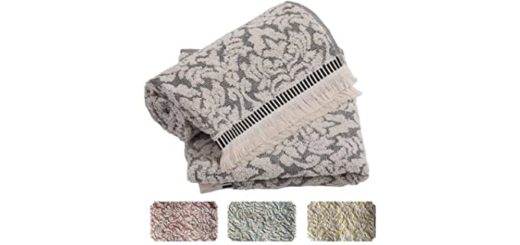 Decoration – decorative bath towels may have a lace or velvet trim, embroidery or printed colors for decoration.
Materails – decorative bath towels are available in cotton, microfiber and even bamboo options.
Options – Most of the models we chose have color availability, sizes, and set options.
---
Reviews: Best Decorative Bath Towels
Below are some top decorative bath towels with their features so you can choose what's best for you. We want to inform you that we will earn a small commission with every purchase made through the links on this page.
We hope you love the products we recommend!
So that you know, We may collect a share of sales or other compensation from the links on this page.
---
1
---
2
These luxury decorative bath towels come in a combo, including two bath towels, two hand towels, and two washcloths.
The texture of these towels is super supple and made with 100% cotton material.
Designed with a classic Greek key pattern, it gives the towel an elegant style to elevate your bathroom's look.
Moreso, the single-ply terry cloth ensures faster drying.
---
3
The beautiful purple bath towel comes in a set with two hand towels and is available in various colors.
In addition, the microfiber material makes the towel lightweight and free of harmful chemicals and synthetic materials.
Also, the embroidered bottom of the towel gives it a stylish and luxurious appearance.
The quick-dry feature of the towel makes it travel-friendly and ideal for swimming, camping, and other activities.
Even the color of the towel is fade-resistant and holds its shape after months of wash and use.
The towel is machine-washable and can be tumble-dried on a low setting for best results.
---
4
These are downright the best decorative towels for the guest bathroom as they are stylish and soft.
A 6-piece premium bath towel set comes with two bath towels, two hand towels, and two washcloths.
However, the two-ply yarns, the high-density cotton, and the low-twist loops all add a luxurious softness and fluffiness to the towels.
These towels are elegant and spa-worthy. They make the perfect gift item as they would be a great addition to any home.
These towels can be washed in the machine, and they are fade-resistant as well.
---
5
The towel is made of 100% cotton with 100% polyester on the decorative band of the towel.
Probably one of the most uniquely designed towels available in the market, you can easily upgrade your bathroom with their addiction.
Spot cleaning is recommended to avoid damaging the decorative embellishments and trims on the towel.
The bath towel comes in a 3-piece set, including two hand towels.
---
6
This is a complete 6-piece towel set. However, these towels are also available in individual size sets and various colors.
The bath towel material is 100% genuine Turkish cotton, giving the towel its signature softness.
Moreso, these bath towels are decorative in a very modern and minimalistic way. The crisp white color gives a spotless and inviting look.
Attention has been paid to improving the towels' absorbency so that you can experience the satisfaction of the product.
---
7
The Creative Scents decorative bath towels come in a full set.
The set includes guest towels.
They have a velour finish and lace trim.
The towels are 100% pure cotton.
---
8
The Truly Lou towels are cotton and decorative.
They are Jacquard Woven towels in a set.
The set includes two bath towels and two hand towels.
They have a pattern design and two colors.
---
9
The bridge Istanbul is Turkish hand towels for your bathroom.
They are 100% cotton and very durable.
The cotton is Oeko-Tex standard.
They are also available in more colors.
---
10
The Great Bay Home Store brings you their six pieces of Luxury Turkish cotton spa towels.
They have a decorative appeal and come in a full set.
There are bath towels and hand towels.
Available in six striped color options.
---
Index Table: Top-Rated Decorative Bath Towels
---
---