Freestanding tubs are a symbol of sophistication and luxury and help to create an impressive bathroom. These are available in different materials and styles. Choosing the best freestanding tubs requires a lot of thinking and planning since these are a considerable investment.
Therefore, a freestanding bathtub buying guide is here if you want to bring in more style and luxury inside your bathroom. In addition to that, we have also mentioned some of the best freestanding tubs in the market for you to buy.
---
What are the Different Materials of Freestanding Tubs?
You can find freestanding tubs in different materials. These materials impact the installation and functionality of the bathtub. Apart from that, it also impacts the overall style of any bathroom, making it look more sophisticated.

Acrylic – Acrylic is one of the most popular materials when it comes to bathtubs. It is a light, scratch-resistant material that is easy to look after. Usually, acrylic is antimicrobial; therefore, you can clean it with ease. A freestanding acrylic bathtub can last for a very long time.
Cast Iron – This is a traditional material by which freestanding bathtubs are made. These can be installed on a pedestal or opponents to draw more attention. It is a heavy and robust material that is difficult to scratch. However, if the material gets damaged, it cannot be repaired easily.
Fiberglass – Fiberglass bathtubs are easy to clean and repair if they get damaged. These are also lightweight and can be installed to give a more elegant look to a bathroom.
Copper and stainless steel – Copper and stainless steel are easy-to-maintain materials. These make for a more chic bathtub that has both modern and traditional touch. The water remains at the same temperature due to the conductive properties of these materials. Apart from that, this material is also rustproof.
---
Benefit of a Freestanding Tubs
Whenever you see a freestanding tub inside any bathroom, you will be tempted to jump into it and relax for a little while. Freestanding tubs are a great addition if you want your bathroom to look more luxurious. Here are some of the benefits of a freestanding tub.

Spacious – When installed in a large bathroom, a freestanding tub will make space look bigger and spacious. There will be plenty of areas around you and bring you more comfort while relaxing in the water.
Style – A freestanding tub adds more style to the bathroom. It will give you a luxurious feeling every time you step in for a quick bath. You will eventually feel more relaxed and mindful of your surroundings. Apart from that, you will happily show your house to the guest along with all the pretty facilities, including a cute little tub.
Spa Experience – Bring the experience of a relaxing spa right inside your house with a freestanding bathtub. You will never feel the need to go to a spa and book an appointment when you can experience the same luxury right at the comfort of your house.
---
Different Styles of a Bathtub
Freestanding bathtubs are now available in different sizes and styles. However, while choosing a bathtub, you need to be careful about other accessories in the bath area not to create any mismatch in the looks. Here is everything you need to know about the different styles of a bathtub.

Single backrest – Single backrest is a traditional and classic choice that includes an inclined end to support a person's back. The other end is reserved for the drain and faucet.
Elevated single backrest – When it comes to elevated single backrest bathtub, the style is somewhat similar to the single backrest. However, it has an elevated backrest structure that offers additional comfort.
Double backrest – This style refers to a bathtub with both faucets and drain in the side. Therefore, you can use both ends to make the backrest.
Elevated double backrest – Elevated double backrest is just like the double backrest. However, the ends are elevated and provide additional space and maximum comfort.
---
New Trending Drain Cover For Freestanding Tubs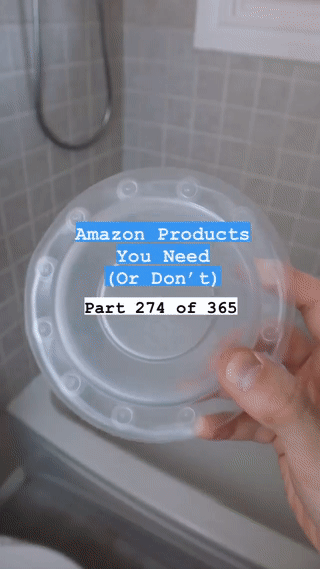 Just watch how useful this drain cover for your freestanding tubs.
This awesome drain cover is trending on Instagram with hundreds of good reviews.
It is a very sticky cup that offers you to add several waters to your tub.
Here is a Link to buy from Amazon.
---
Benefit of a Freestanding Tubs
Materails – Durable quality materials and construction. Materails may include fiberglass, Acrylic, Cast Iron and stainless steel or copper.
Design – Many designs are available you will need to slecet one that suits your requirements and belnds in well with your home.
Size – Make sure that the space you have available in your bathroom can accomdotae such as large bath tub.
---
Reviews: Best Freestanding Tubs
The list consists of products we found to be the most useful for looking for the best freestanding tubs. We would also like to inform you that we may get some part of the profit if you buy any product from the links mentioned below.
---
1
This freestanding bathtub creates a person for a rejuvenating spa experience.
It comes with high-quality finishes and detailing that makes it look gorgeous.
For long-lasting durability, the tub features white acrylic with fiberglass.
The step-by-step guide makes the process of installing even more easy.
---
2
The Woodbridge bathtub is made up of acrylic material along with fiberglass.
It looks chic and provides utmost comfort while relaxing in the bathtub.
The perfect size allows you to add it to a variety of spaces.
You can maintain it with ease since the material is stain and scratch-resistant.
---
3
The Vanity Art freestanding tub comes with an ergonomic design that gives utmost comfort.
It is easy to maintain and clean since the surface is stain-resistant.
You can pair this bathtub with any desired tub filler.
The modern design of this tub can match any decor and interior.
---
4
This acrylic bathtub features a very modern and elegant design.
It comes with fiberglass reinforcement, which makes it the ultimate choice.
There is no tub deck available for this specific model.
---
5
Empava freestanding bathtub is made up of 100% white acrylic and is reinforced with fiberglass and resin.
It has a capacity of around 53 gallons.
You can clean it with the help of soft cotton cloth and keep it just as bright as a new tub.
The bottom of this bathtub comes with a stainless steel bracket.
---
6
It is more comfortable and deeper than the traditional tubs.
The bathtub includes a chrome pop-up drain.
In addition to that, the tub is UPC and cUPC approved.
You can adjust the base according to your need.
---
7
The Ove Decors freestanding tub has a premium white finish to adorn your bathroom.
It comes with an integrated pop-up drain to let the water flow out quickly after each use.
The 3mm acrylic reinforced tub material has fiberglass for added strength and durability.
Moreover, the tub is easy to install, as it is lightweight and does not need technical skills.
---
8
The Acrylic freestanding tub has a classy, elegant look that will give a nice upgrade to your bathroom.
It is constructed using durable reinforced fiberglass material, which is strong and heat resistant.
Moreover, the tub is easy to clean and stain-resistant for a long-lasting bright appearance.
The tub's oval shape ensures enough space to enjoy the bath alone or with a loved one.
---
9
The tub has a modern appeal in its design that fits sleekly anywhere.
It has a smooth and crack-resistant surface to give your body a supported and relaxing soak.
Moreover, the tub is easy to install and comes with a user manual for quick installation.
Additionally, it comes with a drainage pipe with a flexible waste hose to dispose of the water faster.
---
Index Table: Top-Rated Freestanding Tubs
---
---