A baby bath tub is a convenient item to have on hand. It's not always possible for parents to take their children into the shower with them, and some babies may be too small or young to sit up on their own.
A baby bath tub can make it easier on both parties by providing a safe, comfortable space that allows you to keep your child close while still washing them properly. This list of the best baby bath tubs will help you find the best one pretty quickly.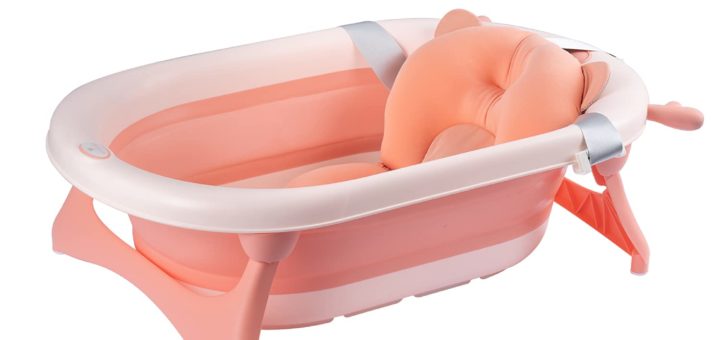 ---
How Do I Choose a Baby Tub?
Here's the best answer to your question.

Safety – Safety has to certainly be the first concern, ensure that the tub has smooth edges, is durable, and is anti-slip for your baby's safe bath time.
Size – Depending on your baby's age, the bathtub must be conveniently sized for holding your baby within. However, since babies grow pretty fast, go for adjustable bathtubs.
Comfort – Many tubs for babies come with additional accessories like shower units, base pads, infant slings, etc. These items ensure that your baby's bath time stays comfortable.
Convenience – Even the parents must be able to conveniently give their baby a good bath to ensure their hygiene. Thus you must pick a tub that is convenient for you to use.
---
Different Types of Infant Bathtubs
There are three types of baby bathtubs, as mentioned below.

Standard – These are standard infant-sized tubs that have no frills attached designs. These are common but lack any additional accessories that could ease the bath time.
Convertible – Since babies grow very fast, many manufacturers make tubs that are convertible and can be size-adjusted as the baby grows.
Foldable – The foldable ones are convenient for people who travel frequently or smaller homes that are tight on space.
---
How to Bathe a Newborn in a BathTub?
Here's a quick video that will help you guide through this special process.
---
Reviews: Best Bathtubs for Babies
Here's a brief list of the best bathtubs for babies, and while you check them out, also know that this page includes affiliate links.
---
1
Get the complete vintage vibes to your baby's bath time with this glossy and non-fading acrylic bathtub.
It is pretty sturdy, thanks to its three-layered structure.
This tub sits on four aluminum feet and can be used both indoors and outdoors.
You will have to install the aluminum feet, and brass pop-up drains into the tub.
---
2
This bathtub is suitable for kids ranging from infants to toddlers.
This tub fits in most of the double sinks and also has adjustable bump support.
It is also non-slip, thanks to its contoured back wall design.
Also, the temperature-sensitive drainage plug changes its color if it senses that the water is too hot for the kid.
---
3
Here's an excellent whirlpool bubbling spa from Summer Store that is all set to provide a luxurious bath time to your baby.
The calming circulatory jets ensure that any cranky baby will not run away from their bath time.
There's a new baby deluxe sling with bolsters that help you hold your baby in place.
The insulated double-sided wall maintains the water temperature for a long.
Moreover, the motorized water jets will keep them entertained by creating bubbles while you rinse them off with soap or shampoo.
---
4
This baby bathtub is suitable for infants to toddlers that are up to 35 lbs in weight.
The tub can be folded flat when not in use and requires minimal storage space.
Its base is designed to be non-slip, and the heat-sensitive draining plug changes its color if the water is too hot for your baby.
You'll also get additional removable support for holding newborns in place during bath time.
---
5
This one is not precisely a tub but seat support that can be placed inside a regular tub while you bathe your baby.
It is hypoallergenic and can be washed in the washing machine.
The petals are made from organic lyocell fiber and 7 layers of mesh spacer filling that gives your infant a cloudlike feeling.
Besides, the air mesh is well ventilated and thus also dries pretty fast.
The best part is that it is absolutely non-slip.
---
Index Table: Top-Rated Baby Bath Tub
---
---