Squatting is a great way to stay healthy. The toilet squat stool allows you to get into the correct position for this. The Squat Stool helps you eliminate faster and more complete by putting your body into a natural squatting position over your own toilet.
Un-kinking the rectum takes our bodies from continent mode to elimination mode to speed up eliminating waste. We've found some of the best toilet stools for you. We include why they're worth purchasing and additional information about each one below.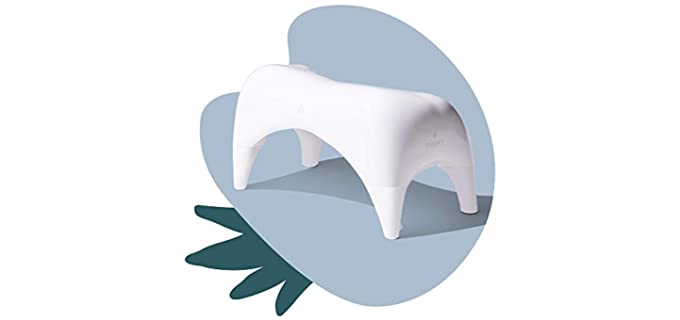 ---
What are the Benefits of Toilet Squat Stools?
A toilet squat stool is beneficial for both young and old alike, as they are available in various styles and materials.
Promotes More Natural Position – A toilet footrest can be a helpful addition to make bowel movements easier for anyone who experiences chronic constipation, hemorrhoids, or inflammatory bowel disease.
Enhance Comfort & Safety – If you have short legs, adding a step stool to the base of your toilet can prevent leg dangling and numbness. Besides, these stools are available in different heights but usually range between 7 inches and 9 inches high.
Increase Safety & Independence – If you have young kids, it's important to choose a squat stool that is just right for them. This way, they can step up and down the toilet safely while not falling in.
---
Who Should Get a Squat Stool?
Those who are elderly or with great difficulty in their lower limbs and back are most likely to benefit from using a toilet stool. Besides, there are few other reasons that we've discussed below.
Constipation – Squat stool allows you to use gravity as a natural laxative. This position relaxes your puborectalis muscle, straightens the anorectal angle. Plus, it fully empties the bowel by pushing down on pressure points in your hips.
Hemorrhoids – Using posture-changing devices can help people go quickly and strain less while emptying their bowels. Toilet squat stool might also ease constipation and prevent hemorrhoids.
Colon Disease – Fecal buildup in the colon can cause diseases such as cancer and reduce nutrient absorption. So it is important to keep your body regularly cleaned out, which we can accomplish with the help of stools.
Urinary Difficulty/Infections – Squat stools can also help reduce the number of urinary tract infections in women by nearly half.
---
Which Squat Stool Height is Right?
The right squat stool height relies upon a few factors; let's look at a few of them below.
Height of Your Toilet – For those whose toilet is higher than 16 inches, you should purchase a taller stool to unkink your colon. For those who have shorter toilets (16 or less), any stool will work just fine.
User Height – To find the right size, users should first look at their height and level of comfort with different squatting positions. If you're not sure what your ideal stool might be, start by measuring yourself and then contacting an expert if needed.
Comfort With Squatting – Finding the right toilet footstool height can be difficult. Make sure your toilet footstool is the right height for you. Squatting could cause discomfort and other health problems such as hemorrhoids or constipation if it's too low.
---
Reviews: Best Toilet Squat Stool
If you would like to buy a squat stool, here are some reviews that will help. Also, remember that we may receive a commission on sales made through the links provided; however, this does not affect your purchase price.
---
1
AmazerBath toilet stool is made of 100% natural bamboo, which is eco-friendly and healthy. It's durable to use for a long time.
You can use it to simulate the squatty potty dimensions when defecating, which will help you to relax your puborectalis muscle. Plus, it relieves the bowel to save your time of defecation.
No need to install; unfold the stool and place it on the ground next to your toilet. You can effortlessly clean it with water or mild detergent after each use.
You can use a collapsible toilet squat stool as a portable stool for adults as well as kids.
It's very convenient for you to carry around when traveling.
---
2
Simple poop stool by Squatty Potty best puts your body in a natural position for optimal elimination.
This doctor recommended that toilet squat stool improve colon health and improve hemorrhoids, constipation, and bloating symptoms.
It is made in the USA from 100% recycled plastic that never breaks down or leaches chemicals into the environment.
In addition, it's designed with a slight forward slope, so you can assume the squatting position comfortably and efficiently without having to hold your legs up high or strain your back.
Therefore, this stool is a simple, natural solution that helps you have a better bowel movement.
---
3
The Step and Go toilet stool, amazon, is designed to help you achieve the proper posture for more complete and healthier elimination.
Moreover, this stool has a unique feature that allows you to keep your balance while sitting on the toilet. The anti-slip rubber feet will prevent slipping even if you are barefoot.
They are made from good-quality, durable materials that are built to last.
The Step and Go is also great for kids as it provides them with a potty training aid to help them transition from diapers to regular underwear.
Additionally, this toilet footstool is designed to be used to elevate your feet. But you should not place it under a weight greater than 300 pounds.
---
4
This squat stool can help you adjust the angle to simulate the natural defecation squat posture.
Furthermore, achieve the optimal squatting position for more accessible, healthier bowel movements.
The product has been designed with a broad base to provide stability during use, while its ergonomic shape ensures comfort even after extended periods of time.
This stool comes with a minimalist, compact design ideal for travel. You can even use this stool for young children when they are washing faces.
The water-resistant and moisture-proof squat stool is both aesthetically pleasing while being practical. It has a hollow design which makes it lightweight yet sturdy.
Besides, this poop stool has rounded corners to prevent bumps and is tested often, making it a perfect fit with the toilet.
---
5
The Evron Squatty Potty Stool is a revolutionary and patented design that allows you to use your existing toilet but in an ergonomically correct position.
It's perfect for helping with constipation, hemorrhoids, and bloating.
A stackable design lets you tuck away the stool after use; multiple doctors recommend and endorse them.
In addition, this toilet squat stool comes in multiple colors and has a weight capacity of 350 pounds each, and can be used in any natural squatting position easily.
This Evron stool is sturdy with its no middle bridge design. Besides, it is made of superior ABS plastic, which is BPA-free.
---
6
With a TUSHY toilet stool, you can elevate your feet and legs to a comfortable position. So, no more straining, pushing, or constipation now.
It has a sleek, high-end design that upgrades the look and feel of your bathroom. Also, it fits discreetly in front of your toilet seat.
Moreover, this stool is available in multiple leg heights, so pick from 4 different leg heights for the perfect fit.
It is carefully crafted curvature for keeping you comfy during a less strenuous release of bowels.
---
Index Table: Top-Rated Toilet Squat Stool
---
---