Why stick to a regular toilet paper holder when you can have a fancy yet the best one? Apart from being functional, these make your bathroom look decorated within the budget. Moreover, there are various these in the market, and you will surely need clarification.
So, we'll be able to ease some of your homework as we have already researched some products. I've included some toilet paper holder recommendations below and other tips on choosing the ideal holder for the bathroom.
---
---
Benefits of the Best Toilet Paper Holder
If you need to know why you need a good toilet paper holder, let us tell you the significant benefits of the same.

Hygeinic Bathroom – Toilet paper holders promote a hygienic and pleasant bathroom environment. Furthermore, it keeps the roll from getting contaminated by dust or moisture.
Decorative – Nowadays, various designs, colors, and materials add elegance to space. Moreover, most are designed to go well with all bathroom interiors.
Clutter-Free – Many toilet roll holders have extra storage space. In addition to installing one in the stand, you can stock the rest in the space provided.
---
Types of Toilet Paper Holder
Depending on the usage and the preferred type, you can decide which one you want to install in your bathroom. Have a look at the various types of holders.

Wall Mounted – The wall-mounted toilet paper holders are the most common and fairly easy to install. They are available in all shapes, materials, and sizes, whichever is required.
Free Standing – Free-standing holders are also a good option if you don't want to drill your wall. Also, they are easily movable and do not take up space.
Tank Mounted – If your bathroom doesn't have sufficient space to install a holder on the wall, you can select the tank-mounted one. It will be easily accessible.
Double Holder – For people who always remain worried about running out of toilet paper. So, if you need a backup toilet roll every time, go for the double holder.
---
Features of the Best Toilet Paper Holder?
So, how do you decide whether the one you buy is ideal for your bathroom? Please have a look at some points you must consider while buying it.

Easy-Installation – The chosen one must be easy to install. After all, who would want to waste time looking for hardware tools and then fixing them? To avoid installation hassles, you can have free-standing roll holders.
Compact – Besides, the holder must be compact and not consume a lot of space. It would be best to fit below or behind the toilet seat.
Elevated Base – Ensure the free-standing holder has a lifted base so the roll doesn't touch the floor.
Budget-Friendly – Lastly, do not spend too much on a toilet paper holder. You can find an ideal one within your budget and preference.
---
New Toilet Paper Holder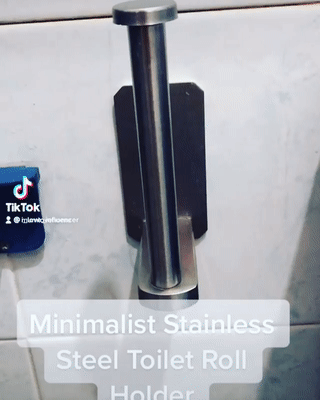 Just watch how awesome it is to have this toilet paper holder in your bathroom.
This beautiful toilet paper holder is trending on Instagram with many good reviews.
It offers a much space that is best for all sizes.
It is durable and can stay for many years.
Here is a Link to buy from Amazon.
---
Reviews: Best Toilet Paper Holder
I have some suggestions for buying the best toilet paper holder and am including some of the above mentioned factors. Go ahead and add one of them to your bathroom. Also, note that we may earn a little profit with every purchase you make using links on this page.
---
1
---
2
This double-port pivoting toilet paper holder has a chrome finish and a highly reflective mirror-like surface.
Indeed, it is going to be a functional as well as a decorative item in your bathroom.
Moreover, it goes well with every bathroom interior, whether colored, designed, textured, or plain.
The holder is supposed to be mounted on the wall, and the installation is an effortless task. In short, hassle-free installation.
The pivoting post feature allows users to change the rolls without a traditional roller easily.
---
3
This standing toilet paper from mDesign provides extra storage for three additional rolls. It can also hold a jumbo roll.
The holder has an open top and cutaway in the front to grab a reserve roll of toilet tissue quickly and easily.
Since you can store the tissue rolls in it, you will always remain worry-free about them finishing.
Furthermore, it is ideal for small spaces compact enough to hide behind or beneath the toilet seat.
The best part is that the raised base ensures the paper doesn't touch the floor and get dirty and wet.
It is made of a strong steel wire with a durable rust-resistant finish to wipe clean it with a damp cloth.
---
4
The elegant, free-standing design is fit for all bathroom sizes and interiors.
Moreover, you can stock two extra tissue rolls apart from the one dispensed. In simple words, you will always have toilet paper.
The base is sturdy and elevated, so the roll doesn't touch the floor or get dirty.
Also, it is perfect even if you have a small space since it fits easily and even stocks additional rolls.
This toilet paper holder offers easy installation.
---
5
The YGIVO toilet paper holder is designed with clean lines, making your bathroom look fresh and clean every time.
Moreover, it has a brushed nickel finish, making it resistant to rust and corrosion.
Besides, it is manufactured using high-premium 304 stainless steel.
The wall-mounted holder can also hold jumbo-sized rolls of toilet tissue.
A stainless steel knob at the holder's edge prevents the roll from sliding off.
The product also comes with all hardware screws, accessories, and an installation manual for the user's convenience.
---
6
This TP holder from YIGII is made of 304 stainless steel and is resistant to rust and dirt.
Moreover, it is the easiest to install. A person must peel the paper off the adhesive and stick it to the wall.
However, it would be best if you were careful while sticking it. Letting it stick for 24 hours before hanging the toilet roll on it would be better.
Therefore, you don't have to look for hardware tools or drill your wall to install this holder.
It is advised that you don't stick it on wallpaper or painted walls.
---
7
The Kes Toilet paper roll is ideal for all bathrooms.
It is stylish stainless steel.
The design is elegant and easy to use.
Wall mountable and will fit larger rolls.
---
8
The Moen Toilet Paper Holder is a single-post design.
It is rust-resistant and brushed nickel.
The toilet paper roll holder is wall mountable and has a great design.
Easy to change and operate.
---
9
From Simple Houseware, we have a bathroom toilet paper roll holder and stand.
This is a full stand with a chrome finish.
Ideal for holding toilet paper rolls and keeping extra at hand.
It can hold three rolls and one on dispense.
---
10
The Nearmoon Toilet paper roll holder is also a great design.
It is rustproof stainless steel.
You amount it to your bathroom wall.
Easy to use and install.
---
Index Table: Top-Rated Toilet Paper Holder
---
---