The latest in modern bathroom trends is the new self-cleaning Toilet, something you may not have heard about, but that is truly a remarkable invention.
As toilets are usually quite a hassle to clean and keep clean and are quite unhygienic, having a self-cleaning toilet can make your life so much safer and easier.
Many Self Cleaning toilets also come with other advanced functions, such as a heated seat, bidet and drying function, improved flushing systems, or heightened seats for better accessibility.
---
The Self Cleaning Toilet
As the name implies, a self-cleaning toilet is a toilet that can clean and disinfect itself or has a flushing system that can clean the Toilet. The function reduces the risks of stains accumulating in the Toilet and keeps it looking clean and hygenic.
There are multi-brands and technologies used to create self-cleaning toilets. Some have a specially designed toilet bowl that reduces crevices waste can cling to and has a glazed finish to repel grime. Others may have a cleaning wand or flushing system that swirls and is more powerful in removing waste from the sides of the Toilet.
However, most Self-Cleaning Toilets use water pressure in a specially designed bowl, usually an elongateanowl with chemicals from the tank released with every flush to clean the Toilet.
---
Pros and Cons of a Self-Cleaning Toilet
Cost – I start off with cost which unfortunately is a con. Because of their advanced features and fairly new technology, most self-cleaning toilets will be expensive.
Saves time – The cleaning function saves you time and effort to clean your Toilet regularly or after every use.
You Still Need to Clean – It is still recommended to manually clean your Toilet once in a while, though self-cleaning.
Not Child Friendly – Self-Cleaning Toilets may have different designs with controls at the top of the tank, and advanced button settings, which can be difficult for younger children, especially potty-training children to use.
More Technologies – Most Self-Cleaning toilets now come with more technology, such as a heated seat, slow closing lid, and many other unique functions and features.
Repairs – Because of their advanced nature, when a seat or attachment of your Self-cleaning toilet breaks, you may need to order specific parts online or need to replace the entire Toilet if you cannot find them, as parts will not be available in your local hardware store such as with regular toilets. This can be a con.
---
Features of a Good Self-Cleaning Toilets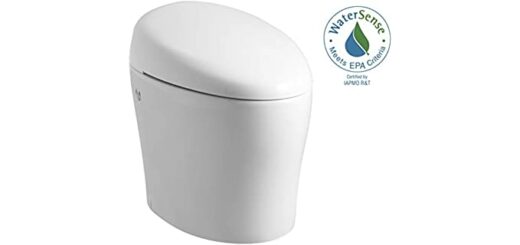 Self-Cleaning Function – the self-cleaning function may be integrated or in the form of a swirling flush system that cleans your Toilet.
Shape – The self-cleaning Toilet may come in an elongated or round bowl design, with a modern or more sleek classic design. It may be a one- or two-piece Toilet.
Functions – Functions may include a heated seat, Bidet features such as a spray and dryer, self-cleaning functions, and LED lighting.
---
Reviews: The Best Kohler Self-Cleaning Toilets
In our review List are some of the best available Self-Cleaning Toilet options for you;
---
1
The Kohler Karing is a skirted One-piece elongated self-cleaning toilet.
The Toilet has smart functions that make it easy to use and control your preferences.
The Toilet has a bidet that cleanses the air, dries, and a heated seat and self-cleaning wand after every use.
It has a LED nightlight to illuminate the toilet bowl for your convenience.
You can easily personalize some settings, and the bowl is elongated and compact to fit into smaller spaces.
The Toilet requires a GFCI circuit for the plug-in as it uses electricity.
---
2
The Kohler Cimarron is a skirted trap-way toilet with a heightened seat that is self-cleaning.
The Toilet is a two-piece design, and the seat is not included; it will need to be purchased separately.
It has an elongated bowl for added room and comfort and a heightened seat.
There us a Skirtedisisisisrap way that makes cleaning extremely easy.
The comfortable height of the Toilet makes sitting and standing up much easier for you.
The Toilet uses 1.28 gallons of water per flush and is more economic.
---
3
The Kohler Corbelle is a comfortable elongated toilet with a higher seat, skirted trap way, and Revolution 360 flushing technology for self-cleaning.
The toiler has an elongated bowl which helps to save you space.
The higher seat is much easier to sit on and get up from, especially for elderly persons.
The Revolution 360 Flushing technology creates a forceful swirling motion that will clean your toilet bowl.
It also has a Skirted Trap way that allows you to clean easily and keeps your Toilet clean.
---
4
The Kohler Memoirs use a classic-styled toilet with an elongateanowl and higher height, with an Aqua Pisan Flush self-cleaning technology system.
The Toilet features a comfortable height for easy access and an elongated bowl.
It has a classic, old-fashioned design with a standard left-hand polished ChrPolished lever.
The Incliner tank liner will minimize condensation in the tank when the Toilet is exposed to humidity.
The aqua Piston Flush Technology helps to keep the Toilet clean.
---
5
The Kohler Karing One Piece 2.0 design is an intelligent Toilet that comes in white, with an elongateanowl.
The Toilet is quite compact and has a one-piece design with an elongatanbowl that saves you space.
It is highly suitable for smaller bathrooms.
The Toilet has an integrated cleaning system that cleans and keeps the Toilet clean.
It has adjustable settings for the bidet and features a heated seat, a dryer, and water temperatures.
The self-cleaning feature is incredibly advanced, with a precision air dryer.
---
6
The Kohler Veil is a One-Piece Skirted Toilet with a dual flush system for cleaning.
The Toilet has a slow-closing seat that closes itself.
It is a one-piece design that integrates the tank, bowl, and an easy-sealing design.
There is an elongated bowl that offers more room for comfort,
The Dual Flush system is more effective and hygenic.
The Toilet has a glazed trap way that will reduce clogging issues.
There is a modern contemporary design that is elegant for your home.
---
Index Table: Top Rated Kohler Self-Cleaning Toilets
---
---