Creating storage space in your bathroom will get easier with Over the Toilet Storage Cabinet. It has tall legs to install over the toilet to use this space for storage.
You may choose various designs and colors to add more functionality to your bathroom. Let's quickly discuss some things and products to consider.
---
Buying Considerations For Over The Toilet Storage Cabinet
Pick a storage cabinet that comes with easy-to-follow instructions for installation. Here are some things to consider in mind before making a purchase.

Size – Measure the area and then select a model to ensure it does not inhibit your bathroom space. Look for sleek designs if you are low on space.
Color – You may choose classic whites to earthy browns per your style. Besides, you may pick steel shelves with a chrome finish to add more durability.
Design – Talking about the design, several mirrored, plated, criss-cross, industrial and modern designs to choose from.
Adjustability – See that the storage cabinet's cupboards and shelves are adjustable to create more space for larger items.
---
Benefits Of Over The Toilet Storage Cabinet
Apart from a clutter-free bathroom, here are some ways you will benefit from over-toilet storage cabinets.

Space Saving – These cabinets do not need extra floor space to install. Moreover, they make the space above the toilet usable, which was not functional before.
Modern – The over-toilet cabinets provide a modern solution if you are in a small apartment or live in a shared space. This will give you more freedom to organize and decorate.
Multi-Functional – You may use these to store your toiletries or add plants, cute slogans, and candles above the toilet.
Aesthetic – These are aesthetically pleasing without any new installation or upgrade in the bathroom. You may choose mirrored cabinets to add more light to the space.
---
Features Of Over The Toilet Storage Cabinet
Look for the following handy features to make sure you make the right storage cabinet purchase.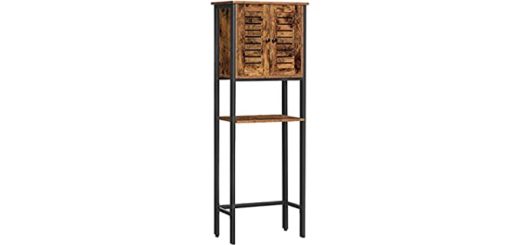 Easy Assembly – See that there are clear instructions to install the cabinets. Besides, there should be an anti-tipping kit to ensure the cabinet is secure to the wall.
No Fade – Choose a material with no color fading coatings and sheets to look the same throughout use.
Anti-Scratch – Ensure that the material has an anti-scratch coating so that it does not get any scratches from stored items.
Long Lasting Materials – Pick wood, steel, MDF, and ABS material for good looks and durability for years to come. This will make it a one-time investment for an ideal storage solution.
---
Reviews: Best Over The Toilet Storage Cabinet
We have listed some of the best Over Toilet Storage cabinets with their features for you to choose from. Also, we would like to inform you we shall earn a small commission with every purchase made through the links in the article.
We hope you love the products we recommend!
So that you know, We may collect a share of sales or other compensation from the links on this page.
---
1
---
2
Choose the Sriwatana freestanding storage cabinet over the toilet.
This will give you a functional space to store your bath stuff and keep clutter out of the area.
Besides, the cabinet's storage space is adjustable per your needs.
The MDF material ensures that it is easy to clean and stays durable for a long time.
This storage cabinet is easy to assemble as it has all the necessary parts.
---
3
Choose the Vasagle bathroom rack for an efficient storage option over the toilet.
It will add some organized storage space without crowding your countertops.
Moreover, the storage cabinet is anti-wobble to be more secure while using.
The cabinet has an anti-tip kit to withstand heavy loads and constant use.
It has labeled parts to ensure you do not spend much time and effort assembling it.
---
4
Pick this space-saving toilet organizer that creates a functional area in your bathroom.
The white wooden storage cabinet of particleboard construction is durable and sturdy even in humid environments.
This cabinet has a weight carrying capacity of 22lbs so that you can store as much stuff as possible.
Besides, the material is waterproof and mold-proof for more extended use in the bathroom.
You may use the adjustable shelves to make more space for towels and linens.
---
5
Consider getting the Elegant home Dawson storage cabinet with a modern design.
This grey-colored cabinet will create a warm space to store your toiletries.
Besides, the criss-cross design, glass panels, and round doors will add a more luxurious look to your bathroom.
This will give you a convenient space to keep your counters free from unnecessary clutter.
The storage cabinet has easy-to-follow instructions to install it correctly within a few minutes.
---
6
Choose this minimal storage cabinet that has steel construction for added durability.
Moreover, it provides vertical storage space for your items without restricting movement.
It comes in a neutral chrome finish to look nice with any décor.
You may install doors or adjust shelves as per your needs.
Besides, the storage units come with rubber bottoms to protect the bathroom floors.
---
7
Zenna Home Space saver cabinets are of excellent quality.
The cabinet fits easily over your toilet.
The cabinet is attractive and highly functional.
It can also fit over taller toilets.
---
8
The Utex is a three-shelf over-the-toilet bathroom cabinet.
It helps to maximize the space in your bathroom.
It easily fits over most toilets.
There are three available shelves for easy storage of small items.
---
9
The Soduku is a wall-mounted toilet cabinet.
It has storage shelves and comes in a set of two.
The color is a neutral brown.
There is also a removable hand towel hanger.
---
10
The Hoobro is a toilet storage rack that fits over your toilet.
It is industrial grade and multi-functional.
Easy to assemble and very stable.
It comes in a rustic color design.
---
Index Table: Top-Rated Over The Toilet Storage Cabinet
---
---