Have you been looking for a great mirror for shaving in your shower?
While this is a relatively simple and easy-to-find accessory for your shower, you need to keep three things in mind; Easy Installation, Stays In Place, and Fog Resistant!
---
What is a Fogless Shower Mirror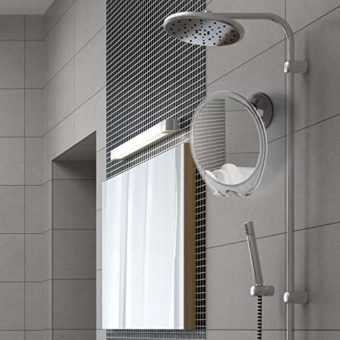 A Fogless Mirror is a shower mirror you can use inside the shower, usually for shaving.
The Fogless mirror or Anti-Fog Mirror is designed to not fog up in your shower with heat and water.
You can mount this mirror using various mounting methods, usually with the mirror inside your shower, wherever you need it.
Some designs come with bonus features and characteristics, but the main concept is that they will not fog, so you can easily see your reflection.
---
Tips on Choosing the Best Shaving Mirror for Your Shower
After looking at the three main characteristics of a Shower Shaving Mirror, we have concluded that a Fogless Mirror with easy and reliable attachment is crucial.
Besides, there are a few great tips for choosing the best in-the-shower shaving mirror.
Installation – Make sure that the mirror comes with the required tools for installing it in your shower and has a reliable and easy installation system. Suction cups are usually ideal, or an attachment can be hung or clamped to the shower door or frames.
Fogless – We have decided that Fogless is a must, but likewise, make sure you choose a fogless design that will last. Some modern fogless mirrors will last longer than those with an archaic anti-fog mechanism.
Shatterproof – The mirror's Glass should be shatterproof in case it breaks inside the shower to prevent cuts and injuries in such an instance.
Rustproof Look for a frame and mirror that is entirely rustproof or water-resistant, and make sure all its attachments and accessories are also rustproof.
Durability – Find a product that has durable and high-quality mirror and border materials for long-lasting performance.
Size and Shape – Straightforward yet essential is the mirror's shape and size. Do not be fooled by decorative and oversized frames; instead, go for a larger-sized mirror. Your shape options will usually be either round or square, which is your preference.
Mounting – mounting mechanisms have different options, such as suction, hooks, and clamps. Hooks are much more stable but are not as adjustable as suction mountings. Then there is also the rope, which you can hang from the ceiling or showerhead.
Extra Features – You can look for other extra features and characteristics according to your requirements and comfort preferences. Features may include; razor holders and LED light, Swiveling up to 360 degrees, and some even come with a squeegee to clean the mirror and your shower with. Some even come with additional hooks or a shelving system where you can keep more shower accessories. Rotation and swiveling functions help you reach those hard-to-reach areas and give you a total view of your face.
---
Features of a Good Shower Shaving Mirror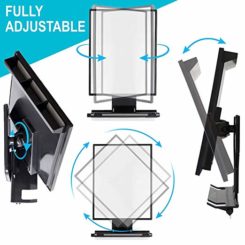 Fogless materials and construction come with a fogless guarantee.
Rotation mechanism up to 360 degrees so you can easily see your entire face.
Razor shelf or holder for secure storage of your razor, toothbrush, and other bath and shower accessories.
LED lights at the back of the mirror or surrounding the frame.
It has suction cups, rope, or a 3M stick-on Hook Mounting system.
Durable and quality frame and mirror.
It hooks and a tray for soap and loofah storage.
Some require a few seconds of warming up before fogless, whereas other models start working immediately.
Swiveling functions from different angles.
There is shatterproof glass used for the mirror.
Waterproof and rustproof design and materials.
---
Reviews: The Best Shower Shaving Mirrors
Below are some of the best Shower Mirrors with Fogless Features; We also like to inform you that for every purchase made through the given links, we may get some credit for the sale.
We hope you love the products we recommend!
So that you know, We may collect a share of sales or other compensation from the links on this page.
---
1
---
2
The Mirror and Rope reflect model is an extra-large shaving mirror on a convenient rope that you can hang anywhere in your shower.
Very durable and almost indestructible quality.
,strong>Unique fog-free design.
It offers an unbeatable reflection that will eliminate shadows.
You can easily hang it from the wall, curtain rod, or even the shower head or hold it in your hands.
---
3
Guaranteed no fog ever design that is chemical-free.
It has an extra-wide water chamber and redesigned shelf with hooks for your razor and loofah.
It can rotate up to 360 degrees.
Shatterproof, Rustproof, and will adhere to any bathroom surface.
A premium mirror with squeegee included.
---
4
The Asani Fogless shower mirror is one in a million with so many excellent reviews that I just had to include it on my list.
Guaranteed to stay Fogless in the shower up to 100 degrees.
It comes with an integrated razor hook for easy and convenient storage.
Ready to use no cleaning or warming up required.
It rotates to 360 degrees for easy viewing and will swivel smoothly into almost any angle required.
---
5
The Shave Pal is a must-have for shaving in your shower, a mirror explicitly designed to help you when you are shaving in the shower.
The completely fog-free design holds it in the steam for a few seconds.
A perfect size that is ergonomic and allows you a complete view of your face.
There are 3M command-designed hooks included that will not damage your surfaces.
Included is an additional 3M command strip for your bath hooks.
The mirror is shatterproof and guaranteed to stay fogless.
---
Best Shower Shaving Mirror
6
This ToiletTree Products shower shaving mirror is 20% larger than other mirrors.
The glass texture is fogless for life, and you will not need to buy any fog-free sprays.
You can easily mount the mirror with silicone adhesive.
This is amongst the top-selling products for shaving mirrors.
It is big and lets you maximum area of your face.
---
7
If you are tired of cleaning off the fog from your shaving mirror, this is the mirror.
It is completely fogless and will not leave any fog impressions behind.
It has a powerful suction cup that instantly attaches to your shower glass.
The 360° Swivel mirror's mirror helps you adjust it at your convenience.
It has a razor hook to store your razor in the mirror safely.
---
8
This ToiletTree Products shower shaving mirror will provide you with the best shaving experience.
The thinner frame of the mirror and its high-quality reflective surface help you see your face more clearly.
The mirror's redesigned shelf gives it excellent stability, and hooks help hold the razors correctly.
The mirror is also shatterproof, so you do not have to worry if it falls.
It is antifog and will leave no impressions of fog on the mirror surface.
---
9
The ShaveWell Company shaving mirror is one of the best mirrors in its range.
It is unbreakable and comes with a hook at the back. So if it falls, relax as nothing will happen.
The mirror is fog-free and will provide you with the best shaving experience of your life.
The shaving mirror has a great design, and the large area availability lets you view all the areas of your face effortlessly.
The mirror is highly durable and is made to last a lifetime.
---
10
Get this chrome shaving mirror for JiBen for a comfortable shave.
It has a sleek design that comes with a razor holder for your convenience.
The mirror has a sturdy suction cup to stay on the wall without moving securely.
It moves 360 degrees for angular viewing while you shave.
The mirror is easy to re-position without using any tapes or tools.
---
Index Table: Top Rated Shower Shaving Mirrors
---
---