The Ring Light mirror is an exceptional device for doing makeup professionally and to use when you are making videos or taking pictures of your makeup routine.
The Ring Light Mirror is usually a magnification mirror that is portable, with LED lights to give you a clearer view and better lighting angles for taking selfies and videos.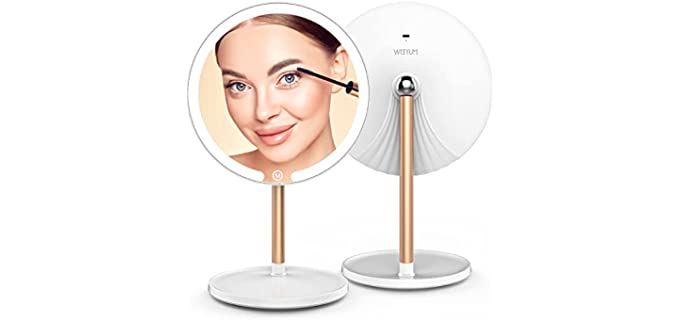 ---
Uses for the Ring Light Mirror
The Ring Light mirror is ideal to use to do professional makeup or to do your heart, the lighting gives you a much clearer view, and most ring light mirrors also offer magnification which helps you with better precision when applying makeup.
Similarly, ring Light mirrors come in handy when making YouTube makeup tutorials and videos.
What is the use of a mirror in a ring light?
---
benefits of a Ring Light Mirror
Here are a few benefits of using a ring light mirror;

Better illumination – Besides magnification and a clearer view, the Ring Light mirror provides very effective illumination for doing hair and makeup and for taking pictures and videos.
Professional Results – You can do professional makeup and videos with a ring Light Mirror, and it is so affordable. So, it truly is worth it for the results that you will get from this small and affordable item.
Look Elegant – The Ring light mirror can be a stylish and elegant-looking item in your home that adds to your décor. They are available in many colors and styles that will suitably complement your home décor and look neat.
Lightweight and Portable – One thing I love about ring light mirrors is how lightweight and portable they are. You can do your makeup anywhere in your home. You just need a tabletop or flat surface to place your ring light mirror, and some even come with suction cups and can be placed on a wall. The ring light mirror can be folded quite compactly and easily fits in your handbag or traveling bag.
Durable – Most ring light mirrors are of great quality, and they will provide you with effective lighting and results for many months to come. Ring Light Mirrors usually come with rechargeable batteries, so they are easy and reliable to power with LED lights.
---
Features of a Good Ring Light Mirror
Ring Light Mirror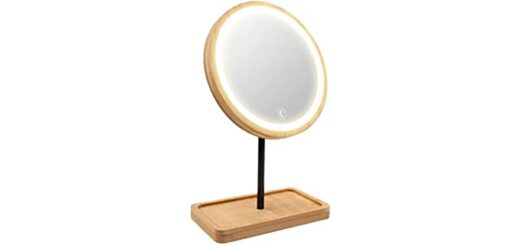 Stand – The Ring Light mirror will usually be a round or square mirror that comes on a stand that you can place on any tabletop. Some models can be fixed to a wall or come with suction cups that can be fixed to any smooth area.
Magnification – Most Ring Light Mirrors are vanity mirrors that are double sides that offer magnification on the one side and normal reflection on the other. You get an x1 to x10 ratio magnification and even models that have three options for magnification.
Lights – The lights will usually be LED. Most ring Light mirrors will have 20 or more small LD lights. However, some have three lights. Some have bright and dim functions on the lights, and others have lights that mimic sunlight.
Rotation – Some models can rotate from 180 degrees or 360 degrees so that you can use the mirror at all angles.
Materials – The mirror may have a wood, metal, or plastic frame with a similar or different, stronger stand.
---
Reviews: The Best Ring Light Mirrors
In our list below are some exceptional options for ring light mirrors from which you can choose as needed;
---
1
The Benbilry Ring Light Mirror is a cordless mirror that is ideal for all your vanity needs.
The mirror has double sides that have a 1X and a 10X magnification function for applying makeup and grooming.
It is battery-operated and ideal for travel.
The Ring Light Mirror has a round frame and sits on a stand.
It can rotate up to 360 degrees and comes with an LED light.
---
2
The Fancii Ring Light Mirror is a lighted vanity and makeup mirror that has a 20 Natural LED ring light system and fits with a locking suction cup.
It is portable and cordless, ideal for travel.
The mirror has natural LED lights around the frame of the mirror to mimic natural sunlight.
It has double sides, with single and x7 magnification functions.
You can attach the mirror anywhere with the easy to use suction cups.
---
3
The Deweisn Light Up Ring Mirror is a square design that folds closed and opens up with touchscreen magnification and two power supply modes.
It has 21 LED lights that are built in around the frame, and you can easily adjust the brightness with a touch sensor.
The Ring Light Mirror has side-view panels for more angles of view and has an x3, x2, and x1 magnification option.
It likewise comes in a few more colors from which you can choose as needed.
---
4
From Weeyum, we have a fully rechargeable Lighted makeup mirror that has a magnification system and different color modes.
The mirror has LED lights with three different color modes from which you can choose for doing your makeup.
It can magnify up to 10 times on the one side and has a double-side function.
The ring light mirror has an ergonomic and elegant design with a high-impact plastic frame and aluminum stand.
---
5
The RiverLux LED Ring Light mirror is perfect for grooming and doing makeup.
It is battery-operated and completely cordless, so also perfect for traveling with.
The mirror has a USB charging point for fast and easy charging.
It has quality LED lighting that simulates sunlight.
There is a multi-function touchscreen to dim and brighten the lights and to switch them on or off.
The stand is 180 degrees rotatable for your convenience.
---
6
The Kimikata is a stunning small bamboo Ring Light mirror with a natural and decorative appeal.
It is cordless and fully rechargeable for easy traveling.
The Ring Light Mirror has a bamboo wood frame and tabletop stand.
It has three LED lights and a mirror.
The mirror has a 360-degree rotation function that is easy to use at all angles.
---
Index Table: Top Rated Ring Light Mirrors
---
---