A mirror is one of the best functional elements of decoration that you could have in your home.
A full-length mirror is ideal as a decorative and functional mirror if you want an interior mirror that gives positive vibes and allows you to look at yourself in full perspective.
You can fix a full-length mirror in any space and use it functionally or artfully.
Full-length mirrors come in many options and designs for small and larger spaces in your home.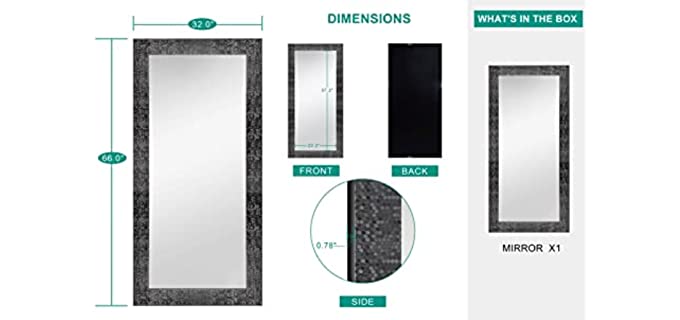 ---
What is a Full-length Mirror
A full-length mirror is a mirror that is several feet taller than regular mirrors and much taller than what it is wide.
The full-length mirror has the main function of allowing you to see the reflection of your full height and body from head to toe.
Because of its size, a full-length mirror likewise reflects much more light into a room, which can brighten up a space and make a smaller space seem much larger.
There is an endless variety of full-length mirrors available in different shapes and sizes, with many styles of frames that will easily suit your home décor and style.
[/super_list]
---
Advantages of a Full-length Mirror
A full-length mirror can have great aesthetic and functional advantages in your home, in any room;
Reflection Functions – Because of the large size of a full-length mirror, it reflects much more light into a room or your home, which will instantly brighten up the area and create the feeling of more space.
Cover Large Areas – You can decoratively use a full-length mirror to cover a large open wall and create more space or interest in that area.
Functional Uses – The full-length mirror will give you a reflection of your entire body. Thus, you can see exactly what you look like and test out clothing and certain styles for a specific function.
Office – A full-length Mirror is ideal for your office as a point of decorative interest and a functional viewpoint for checking how you look quickly.
Bathroom Use – Full-length Mirrors can have a decorative and functional purpose in a bathroom for doing your hair or makeup, getting dressed, or just creating the illusion of more light and space.
In your Living Room – The full-length mirror is an excellent piece of furniture for decoration in a living room that will create brightness and space and give you a view of the area.
halls and Corridors – A full-length mirror is a decorative design for hallways and corridors that will create more space. It is also functional if you want to see yourself or check your hair or makeup when passing by.
---
Features of a Good Full-Length Mirror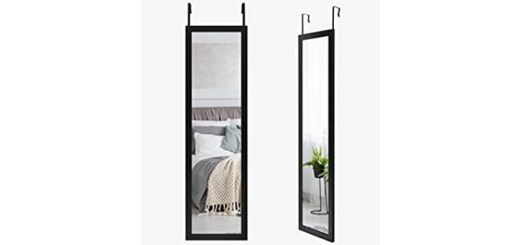 Mirror – The mirror will consist of clear glass that may be shatterproof, with a film that offers an excellent and clear view.
Frame – The frame will be wood with many patterns and color options or a lightweight aluminum that also offers more colors. The frame can be oval or rectangular.
Size – A full-length mirror will be around 54 to 64 inches in length and 18 to 21 inches in width, offering you a full body view.
Design – You get a few designs in full-length mirrors. Some need to be placed against a wall or fixed to a wall or flat surface. You get models that are on a stand and that have an adjustable tilt function. Then there is also the door hanging model, which has hooks for hanging flat against a door.
---
Reviews: The Best Full-Length Mirrors
These are a few options for the best full-length mirror designs;
---
1
The NeoType full-length mirror has a thin aluminum frame and is a large full-sized option that will give you a full body view.
It has high-definition glass that is shatterproof and gives a true and clear reflection.
It is a very easy setup design that requires no assembly or additional tools.
The mirror has a lightweight painted aluminum frame that is durable and available in many more color options.
It is a 55 by 16 inches size mirror in full-length.
---
2
From Naomi's home, we have a full-length mirror that you can hang or use standing.
The mirror has a gorgeous mosaic frame available in more colors.
It has a large design to see your full body and is suitable for a bathroom or bedroom.
The mirror is a durable design with glass enclosed in a durable frame.
No assembly is necessary as it comes with all your needs, already assembled.
Screws and attachments for mounting are likewise included for your convenience.
---
3
The Roundhill Furniture Traditional Queen anna style full-sized mirror is a beautifully elegant and sophisticated design.
It is a standing mirror with a cherry cheval style, elongated design, and a wood frame.
The mirror is on a stand and offers a full body view from all angles.
The dimensions of the mirror are 22.5W x 16D x 59.25H inches.
There are likewise more wood frame colors available from which you can choose as needed.
---
4
From Raamzo, we also have a wood-framed Cheval-style full-size mirror that is 58 inches in length and 18. 5 inches in width.
The mirror has an espresso finish wood frame that consists of a hardwood veneer.
The frame has an adjustable tilt design in a solid supporting stand.
It has MDF materials and glass that offers a clear view.
---
5
The American flag Over the Door mirror is an excellent design full-length mirror that you can hang over any door.
No assembly, tools, hooks, or attachments are needed, saving space.
The mirror has hooks at the top that easily hang over any door.
It has to shatter-resistant glass and a durable frame available in more colors.
---
6
The Jackinna full-length mirror is our largest 64-inch by 21-inch mirror option which c, which comes with a U-Shaped bracket that is adjustable for triangular support.
It is a large framed wall and standing mirror that comes in more colors.
The mirror has an elegant design and is not overly bulky.
It has a premium ultra-thin aluminum alloy frame that is lightweight and durable, and the glass is fully shatterproof.
---
Index Table: Top Rated Full-Length Mirrors
---
---