If you always have an issue with dirty faucets, or germs on faucets, whether in your kitchen or bathroom, then the touchless bathroom faucet or kitchen faucet may be exactly what you need.
Many times, your hands are covered with soap or dirt, and you do not want to have to clean the faucet, as well, after washing your hands.
In this article, on the other hand, we are concentrating mainly on touchless bathroom faucets that work with sensors and similar technologies.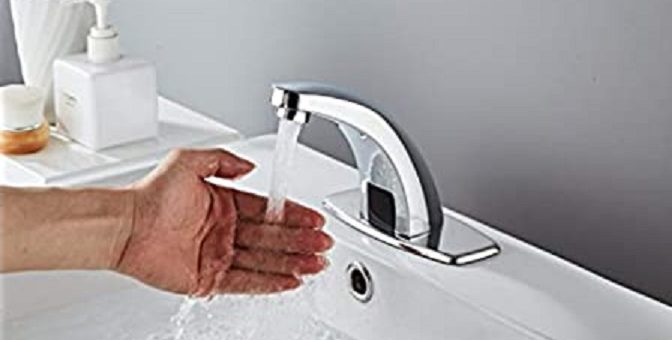 ---
Why Choose a Touchless Bathroom Faucet
Most touchless faucets generally use less water than traditional faucets, they are also ideal for preventing cross-contamination, and your faucets are kept clean,
So, if you are trying to determine whether the touchless faucet is a good option for your home, here are a few reasons that may help you make that choice;
Saves Money and Energy – I can tell you that much water is wasted, especially in a home with children. They will wash their hands and play with the water long after their hands are washed and cleaned. Sometimes, I forget to close the tap fully, leaving water dripping. The touchless faucet has sensors that only turn on when your hand is underneath it and turn off when they are not. Some even come with a timer that will turn off after a few seconds.
Avid Spreading Dirt and Germs – Most standard faucets are a breeding ground for dirt and germs that can be spread from one person to the next. Think of it this way, when you need to wash your hand, you need to turn or lift to open the faucet, touching it with dirty, germy hands, and after washing, close it again, coming into contact with the dirt and germs. Dirt and germs stay on the faucet and become dangerous if not cleaned properly. With a touchless faucet, you never need to touch the faucet, and there is no spreading of dirt or germs.
Easy Access to Water – Children, adults, elderly persons, and anyone, even persons with light disabilities, can access a touchless sensor faucet. They do not need strength in their hands to turn a faucet knob and do not even need to reach it. So, it might be an excellent option for your home for these reasons.
---
How Does a Touchless Bathroom Faucet Work
So if you are wondering how the touches faucet in your bathroom will work, here is some insight into that;
Sensor – The sensor sense movement from your hands and then sends a signal to the solenoid valve to open and allow water to flow. When the sensor sense no more movement, a signal is sent to the valve to close. The sensor uses either infrared light or ultrasonic energy to detect movement,
Solenoid Valve – The movement signal activates a solenoid valve when it engages the sensor. In turn, the signal polarity will affect whether the solenoid valve will be a push or a pull action. There is a rubber-like disc through which that valve will engage the water flow. When the sensor detects no more movement, the valve will remain closed to stop the water flow. When movement is detected by the sensor again, the valve opens and allows water to come out.
Power Source – The sensor or touchless faucet will require electricity to operate. It can be used through batteries or be connected to a wall socket, and You will have to check the package of the touchless faucet to see what power source it needs.
Spout – The Spunt of the Touchless faucet comes in many materials and sizes you can usually choose. You get brass which is the most expensive, and zinc which is the most affordable. Some sputs come with a chrome or nickel finish.
---
Features of a Good Touchless Bathroom Faucet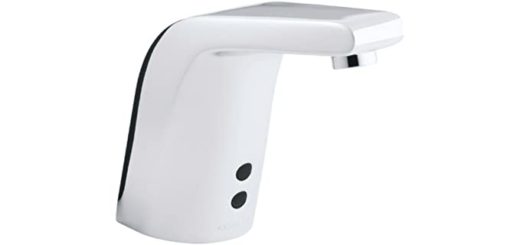 Activation – If you do not want to wave your hands around frantically every time you need to activate your touchless faucet, I suggest an option with more than one sensor.
Power Source – You will need to consider the power source required by the touchless faucet of your choice. You get turbine-powered options powered by the force of the running water. Solar-powered options are available with backup batteries. Then there are also battery and electrical outlet powered options which are more readily available.
Materials and Finish – Faucets, in general, come in many options. There are stainless steel, nickel, brass, and zinc, and their prices will vary. You can also select finish colors and types such as Chrome, nickel, black, or matte black finishes.
Extra Features – Two extra features noted with touchless faucets are LED lights, and voice activation. Some faucets are activated by voice control rather than movement. You also get options that have an LED light with activation.
---
Reviews: The Best Touchless Bathroom Faucets
These are some of the best available touchless bathroom faucets that are truly ideal;
We hope you love the products we recommend!
So that you know, We may collect a share of sales or other compensation from the links on this page.
---
1
The CharmingWater touchless Bathroom faucet is the ideal addition to your bathroom.
It is an automatic bathroom faucet with a hole cover plate and motion sensors.
The temperatures are fully adjustable, and it is battery-operated.
The set consists of premium stainless steel.
There are also more color finishes available to you.
---
2
From Delta Faucet, we also have a stunning touchless sensor faucet. It is available in different colors and finishes.
The faucet has Diamond seal technology and reduces leak points,
It is very easy to install, and everything you need is included.
---
3
The Luxice Automatic Touchless Faucet uses infrared technology.
As seen, this is a hot and cold mixer touchless faucet with infrared technology.
You can easily adjust the temperatures and mixer according to your preference.
It is also easy to install and comes with full instructions.
---
4
Another addition from Luxice is their Oil Rubbed bronze faucet.
It has a touchless design with motion sensors and a hole cover plate.
The faucet saves water and is also temperature adjustable.
Very easy and quick to install with full instructions.
---
5
We also have the perfect touchless faucet set for your bathroom from Kohler.
It is a single-hole AC-powered commercial bathroom sink touchless faucet.
The faucet has Insight technology and a five and ¾ inch spout.
It has a gorgeous polished chrome finish.
---
6
The Delta Faucet Tesla is the perfect touchless faucet set for your bathroom.
It is a single-hole deck mount design that is brass and nickel.
It meets ADA standards and has a one or 3-hole, four-inch installation.
The faucet also comes with diamond seal technology.
---
Index Table: Top Rated Touchless Bathroom Faucets
---
---